Play with color in this fun experiment

If you are looking for some science fun, try this neat color experiment that our Cold Spring Growing Scientists will be tackling on Wednesday, January 20.
Each class we will explore a new science theme with books, songs, and learning stations. This program is perfect for kids ages 3-7. The Growing Scientists meet the 1st and 3rd Wednesdays of each month.
Milk color experiment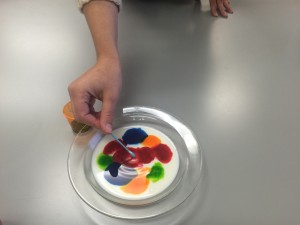 Once you have your colors set, put a
cotton swab dipping is dish detergent
into the center of the milk bowl.
If you prefer, we created this video on YouTube, showing the experiment.
How it works
Milk is mostly water but it also contains vitamins, minerals, proteins, and tiny droplets of fat suspended in solution. Fats and proteins are sensitive to changes in the surrounding solution (the milk).
The secret of the bursting colors is the chemistry of that tiny drop of soap. Dish soap weakens the chemical bonds that hold the proteins and fats in solution. The soap's water-loving part dissolves in water, and its water-fearing part attaches to fat in the milk. This is when the fun begins.
The molecules of fat bend, roll, twist, and contort in all directions as the soap molecules race around to join up with the fat molecules. During all of this fat molecule gymnastics, the food coloring molecules are bumped and shoved everywhere, providing an easy way to observe all the invisible activity. As the soap becomes evenly mixed with the milk, the action slows down and eventually stops. Explanation via Steve Spangler Science
More How-Tos