Friends of the Campbell County Public Library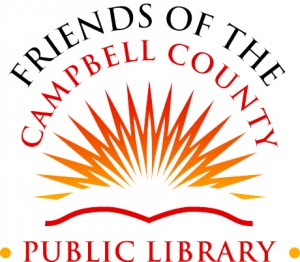 The Friends of the Campbell County Public Library is a nonprofit, equal opportunity organization with 501c3 tax-exempt status. Their purpose is to promote and improve library services, materials, and facilities for the people of Campbell County.
Friends of the Campbell County Public Library help by volunteering for a number of tasks from hosting library events to assisting staff with special projects. They seek to create public support for the library by keeping the community informed about library services.
Friends also work in a variety of fund-raising activities that help the library in areas outside the scope of its regular staff and budget. Funds are raised through membership dues, used book sales, Kroger Community Rewards, Amazon Smile, as well as through the encouragement of tax-deductible gifts to the library.
Join the Friends
Donations
The Friends are not currently accepting donations due to the coronavirus. This page will be updated when they start accepting donations again.
Book Sales
The Friends of the Library book sales are back for 2020 – but with a twist!
Beginning Saturday, Nov. 7, we will offer a sale every Saturday, from 9 am- 5 pm, through Saturday, Dec. 12. The sale will be in the Friends Room on the lower level of our Newport Branch.
All sales will be bags sales. Buy a $4 bag from the Friends and fill it with any books from the entire sale room. A large selection of items are available.
There will be a 2-bag limit per visit into the Friends Room but multiple visits per day are permitted and encouraged.
The Friends Room will have maximum capacity limits due to social distancing requirements. We will be monitoring capacity in the Friends Room and allowing entrance as others leave.
Masks are required for entrance. No outside bags or boxes will be permitted.
Book sale dates for 2020:
Saturday, Nov. 7
Saturday, Nov. 14
Saturday, Nov. 21
Saturday, Nov. 28
Saturday, Dec. 5
Saturday, Dec. 12