Friends of the Campbell County Public Library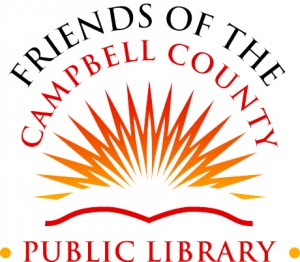 The Friends of the Campbell County Public Library is a nonprofit, equal-opportunity organization with 501c3 tax-exempt status. Our purpose is to promote and improve library services, materials, and facilities for the people of Campbell County.
Friends of the Campbell County Public Library help by volunteering for a number of tasks from hosting library events to assisting staff with special projects. We seek to create public support for the library by keeping the community informed about library services.
Friends also work in a variety of fund-raising activities that help the library in areas outside the scope of its regular staff and budget. Funds are raised through membership dues, used book sales, Kroger Community Rewards, Amazon Smile, as well as through the encouragement of tax-deductible gifts to the library.
Join the Friends
Donations
The Friends will gladly accept your donations of gently used books, DVDs, or audiobooks at any branch. Please contact the branch manager if you plan to donate 100 or more items.
Book Sales
The Friends have a used book sale every other month at our Newport Branch, located at 901 East 6th Street across from Newport High School. The lower level can be accessed from the side parking lot.
All weekend sales run 9 am – 5 pm Thursdays, Fridays and Saturdays
January 10-12
March 14-16
May 9-11
July 11-13
September 12-14
November 14-16
The bookstore is also open from 9 am until noon on the fourth Thursday of the month, January through October.
1/24/19
2/28/19
3/28/19
4/25/19
5/23/19
6/27/19
7/25/19
8/22/19
9/26/19
10/24/19