For Teachers
Teacher Cards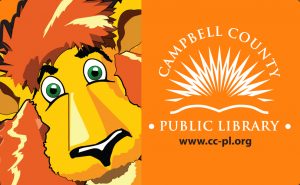 In addition to a personal library card, a Teacher Card is available for professional needs and should be used for educational purposes only. Teacher Cards are available to those working in adult education, K-12 public/private schools, preschools, childcare centers and organizations working with individuals with disabilities.
Teacher Cards are not restricted to Campbell County teachers or residents. Just bring in current proof of employment or verification of homeschool participation to receive your card.
Request Books
With a little notice, we can pull items to help with projects you assign. We can work with you to pull books and audio materials for you to check out and use in your classroom.
We can also pull books for your students to use at the library. This way you can guarantee that all of your students will be able to find helpful materials.
Take a Trip to the Library
We give tours of the library to school groups. For younger students, tours include stories and a tour of our collection. Older students are provided instruction on using the online catalog, web resources and how to find materials in our collection. Call to schedule a visit.
Librarian Visits
Librarians are available to visit your classroom. We can provide stories and other activities. We can also talk about programs and resources we have to offer. Please request visits a few weeks in advance.
We Have Computers
Our computers have Microsoft Word, Excel, PowerPoint and Publisher. Your students CAN get their projects completed! Before sending students, remind them that they need a valid library card to access our computers.
Online Resources
We subscribe to online databases that cover a wide range of topics. We also subscribe to online services that allow students to access skill improvement courses and online practice tests for Advance Placement exams and college entrance exams.
Accessing Online Resources
These resources can be accessed from school or home with a library card and its password.
Some resources require a library card to access. These resources are designated with an asterisk (*).
Academic Search Complete
A scholarly journal, full-text database designed for academic institutions.
EBSCO's K-8 eBook Collection
This eBook collection supports a quality learning experience for K-8 students across all subject areas taught in elementary and middle schools.
ERIC
Education Resource Information Center provides access to educational literature.
Explora Educator's Edition
Includes lesson plans, support materials and professional developments resources.
Funk & Wagnalls New World Encyclopedia
Annually updated database for general student and adult research.
Gale in Context: Opposing Viewpoints
Informed, differing views help learners develop critical-thinking skills and draw their own conclusions.
LearningExpress: College Admissions Test Preparation
Use this center to help get students the resources they need to achieve their college preparation goals.
LearningExpress: College Center
Help students strengthen their academic skills, prepare for placement tests and get ready for graduate school entrance exams.
LearningExpress: Grades 4-8 Educator Resources
Supplement classroom instruction with curriculum-aligned materials in math, reading, writing and social studies.
LearningExpress Library
Practice tests, exercises, skill-building courses and information you need to achieve.
MAS Ultra – School Edition
Database designed specifically for high school libraries with full-text for 500 periodicals.
Middle Search Plus
Full-text database for dozens of popular middle school magazines.
Primary Search
Covers a wide range of general interest topics for children.
Teacher Reference Center
Teacher and administrator trade journals, periodicals and books.
Teen Book Cloud
An online database of eBooks and educator resources perfect for middle or high schoolers.
TumbleBooks
Access electronic picture books, puzzles, videos and more for children.
TOPICsearch
Explore social, political & economic issues and other topics discussed in today's classrooms.
Universal Class
Over 500 online classes that are accessible anywhere online, 24/7. Topics include teacher resources, homeschooling, test prep, math and more.