Six reasons to try opera
Ever wonder what's the big deal about opera? Learn all about it at Cincinnati Opera Rap, 7 p.m. Wednesday, May 18.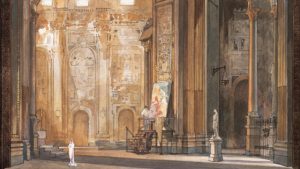 Enjoy "One Giant Leap: Puccini's tragic and powerful 'Tosca,'" celebrated for its gorgeous melodies and dramatic plot twists.
Cincinnati Opera Managing Director Chris Milligan will take a closer look into the Sardou play that inspired the opera and the work's performance history.
Hear why you shouldn't miss Cincinnati Opera's stunning new period production of this beautiful classic.
Intrigued? Ashley Tongret, a regular Carrico/Fort Thomas patron and Cincinnati Opera Director of Public Relations, offers six reasons you should try opera.
1. Just like chocolate mousse, you don't know whether or not you'll like it until you try it.
2. Opera is for everyone. Wear a ball gown, or jeans, or both!
3. You don't need to come prepared, or know any foreign languages. The story is in your program, and the words are projected in English above the stage as the words are sung.
4. Experiencing opera is a lot like watching a movie being performed right in front of you.
5. Yes, there's music most of the time, but don't let that scare you: There's music during most of Star Wars, too! Just as in movies, music helps tell the story and prompts how you should feel about a certain character or during a particular scene.
6. Opera singers don't use amplification. Unlike Broadway, opera singers are specially trained so their voices reach every part of the theater without microphones or speakers.
---
This article appeared in the May issue of our Connections newsletter.
Get "Connections" delivered to your home or inbox for free.
More News