Meet Your Book Club Match

Passionate about reading? Check out the library's book clubs! Turn the page on a new book club and you might just fall head over heels.
The library offers a dozen groups for readers of all ages and interests to connect with one another over a shared love – reading. No strings attached: book clubs operate on a drop-in basis.
Book clubs are currently Zoom-only. Registration is required for all book clubs. Depending on if the county is in the red zone for COVID-19, clubs may move to a mix of in-person and Zoom in March. You can check out all our offerings and register to attend at www.cc-pl.org/book-clubs. 
Below are a few that might make for a perfect "match."
Make sure you read to the end of the page to enter to win our book club giveaway!
Coffee & Conversation
Meets 2 pm, 2nd Tuesday of the month
Morgan Lockard, Carrico/Fort Thomas Branch adult/teen services librarian, heads this club meant for adults.
Though Coffee & Conversation is relatively young – it formed around a year and a half ago – Lockard said she is proud of the members' abilities to discuss topics in a friendly, honest way. Join and you may even be exposed to a genre you've yet to explore.
"If you have a great anecdote that relates to the book's subject then we encourage you to share it," Lockard said. "I enjoy how well this group can connect any book to their own life experiences and what is going on in the world around us."
March Book: Norse Mythology by Neil Gaiman
Homeschool Movie to Book Club
Meets 11 am, 3rd Thursday of the month 
It's a question that has been posed for generations: "Which do you prefer – the book or the movie?" It's also the basis for this club aimed at homeschoolers ages 8-12. Launched in January, Brittany Parr, Cold Spring Branch children's services programmer, has wanted to bring the idea to life for quite some time.
Each month the club convenes to chat about a book and its film counterpart. Register and get a copy of the month's book to keep.
"I think children have so many different options for entertainment now, which is why I wanted to incorporate the movie idea," Parr said. "Maybe a child watched the movie and loved it so much it got them interested in picking up the book. Then the next book they read before the movie."
As for Parr's take on the age-old debate? She's torn!
March Book: A Wrinkle in Time by Madeleine L'Engle
Alexandria Book Club
Meets 5 pm, 3rd Thursday of the month
Leading Alexandria Book Club was entirely new ground for Noah Bartel, Alexandria Branch supervisor. Prior, he hadn't participated in one. But, since he began, there have been "tons of good times and laughter."
"Book Clubs allow us to offer a more interactive, conversational aspect to our selection," Bartel said.  "Not only that but it facilitates an environment to discuss our differences and celebrate the diversity we have in Campbell County."
Plus, as he points out, you may just leave with a better understanding of the book by hearing different interpretations. Still on the fence about joining? Take it from Bartel: "I'd say just give it a whirl."
March Book: The Book Woman of Troublesome Creek by Kim Michele Richardson
Tween Book Club
Meets 4 pm, 2nd Friday of the month
Jessi Holloway, Newport Branch children's services programmer, runs the Tween Book Club, which participants (ages 8-14) can register for and receive a copy of the month's book.
"I've been proud of the level of empathy and wisdom I've heard so far in the tweens," Holloway said. "Kids aren't given enough credit for their intelligence and insight into things we think are above them. When someone is there to guide a conversation in an age-appropriate way, you really hear some wonderful comments."
March Book: New Kid by Jerry Craft
Book Club Giveaway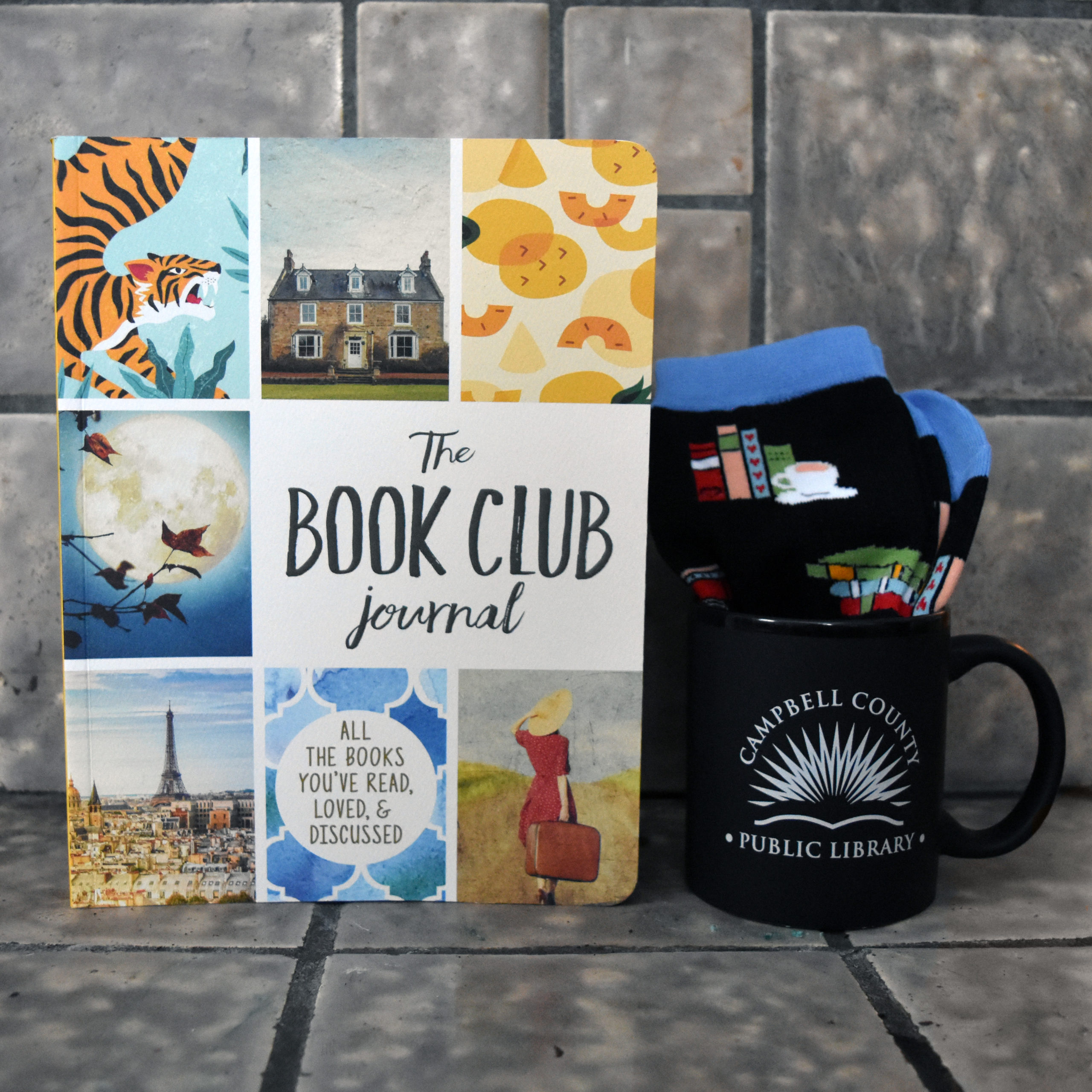 Enter to win a book club prize pack that includes everything you need to start enjoying one of our book clubs – that is, besides the books. We provide those to everyone. ?
The prize pack includes:
A CCPL coffee mug
A pair of book-themed socks
The Book Club Journal, which allows you to keep track of your book club selections and record your latest literary adventures
Entering to win is easy. All you have to do is complete the entry form below. We will select four winners at the end of February!
---
This giveaway has ended. Congratulations to our four winners!
Heidi Houghton
Katie Sauter
Lisa Mell
Amy Sandfoss
---
More News