Local woodturner donates Art After Hours prize

Woodturning artist Jerry Warner is a native of Louisiana, but he views his craft the way a famous Alabama-born movie character looks at life.
"To me, it's kind of like that box of chocolates with Forrest Gump: You never know what you're going to get until you get inside," said Dr. Warner.  "The woodgrain is oftentimes very beautiful  and the feel of it is very sensual."
The Fort Thomas resident is one of 18 artists who will headline Art After Hours 7-9 p.m. on Friday, July 29 at the Carrico/Fort Thomas Branch. The event itself is also like a box of chocolates. There will be sweets, appetizers, wine, florals, live music and, of course,  a diverse collection of art.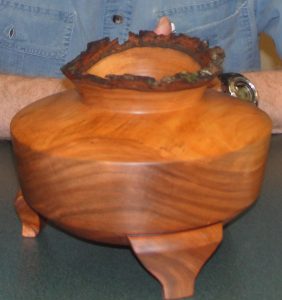 Making the evening even more special, Dr. Warner has generously donated a wood bowl, valued at $335, to be given away in a special $1 raffle.
Dr. Warner spent 30 years as a biology professor and eventually department chair at Northern Kentucky University. That and 28 years in the Army Reserve left him no time for artistic endeavors. When he retired, he took classes at Marc Adams School of Woodworking in Franklin, Ind., and became hooked on woodturning.
"I like to do things with my hands," Dr. Warner said. " I grew up on a small farm in Lousiana and it was a necessity."
Dr.  Warner, who is now president of the Ohio Valley Woodturners Guild, completes about 50-75 pieces a year.
He gets the wood from his yard or sometimes from neighbors. "If I hear tree trimmers, I'll sometimes stop and see what they're working on and get pieces," he said.
When he starts a project, he has a rough idea of what he wants the finished piece to be, but there are always surprises.
"Sometimes you make a mistake, which changes the design," Dr. Warner said. "You refer to those as design opportunities."
This will be Dr. Warner's third Art After Hours. The evening usually keeps him pretty busy, so he doesn't get much chance to see other artists' work, but the medium he says woodturning resembles most closely is pottery.
"The difference is, if potters don't like something, they can always push it back and (with woodturning) you aren't going to be able to do that," he said. "You can't put wood back on. But I have a wood-burning fireplace which complements my office, so if I have a piece that is really bad I can pitch it in the fire and there's no evidence of it."
See his work, and the work of 17 other artists at this year's Art After Hours.
You will also enjoy music by Terra Azul, whose Brazilian sound is influenced by R&B and World Jazz. Thanks to our sponsors who will provide tasty and visual treats: sweets by Fantasy in Frosting, appetizers by Jeff Thomas Catering, floral arrangements by Fort Thomas Florist & Greenhouses and $1 wine samples by Stonebrook Winery. Money from the wine samples and raffle tickets benefit the Friends of the Campbell County Public Library.
No need to register.
More news