Meet Painter Anna Afshar at Art After Hours

Meet Anna Afshar, one of 17 artists who will be featured at this year's Art After Hours.
---
A couple strolls down a rainy city sidewalk, covered by a red umbrella; a woman in a trenchcoat stops to peer through windows as she walks a shaggy dog; people read, work and drink in a café. These are examples of moments Anna Afshar dreamily renders in her watercolor paintings.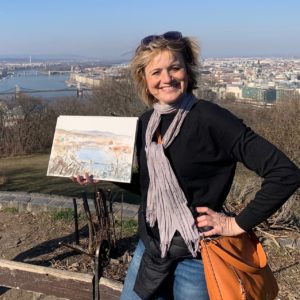 Library patrons can meet Afshar at Art After Hours. The annual event is held at our Carrico/Fort Thomas Branch on Friday, July 29 from 7-9 pm. The featured artists work in a range of styles and mediums. Items will be available for purchase.
Afshar's childhood in Lithuania and Russia brimmed with trips to galleries, symphony halls and theaters. Despite believing that an artist was always inside her, she started her career as a chemist.
"My son left his paints out one time when he was two years old," Afshar says. "I thought, 'I need to try painting." I haven't held a brush in many years.' I picked up a brush and I signed up for a class and that's it."
Now a full-time artist based in Indianapolis, Afshar has studied with artists from around the world. She is a signature member of the Watercolor Society of Indiana, Hoosier Salon and Indiana Artist Club.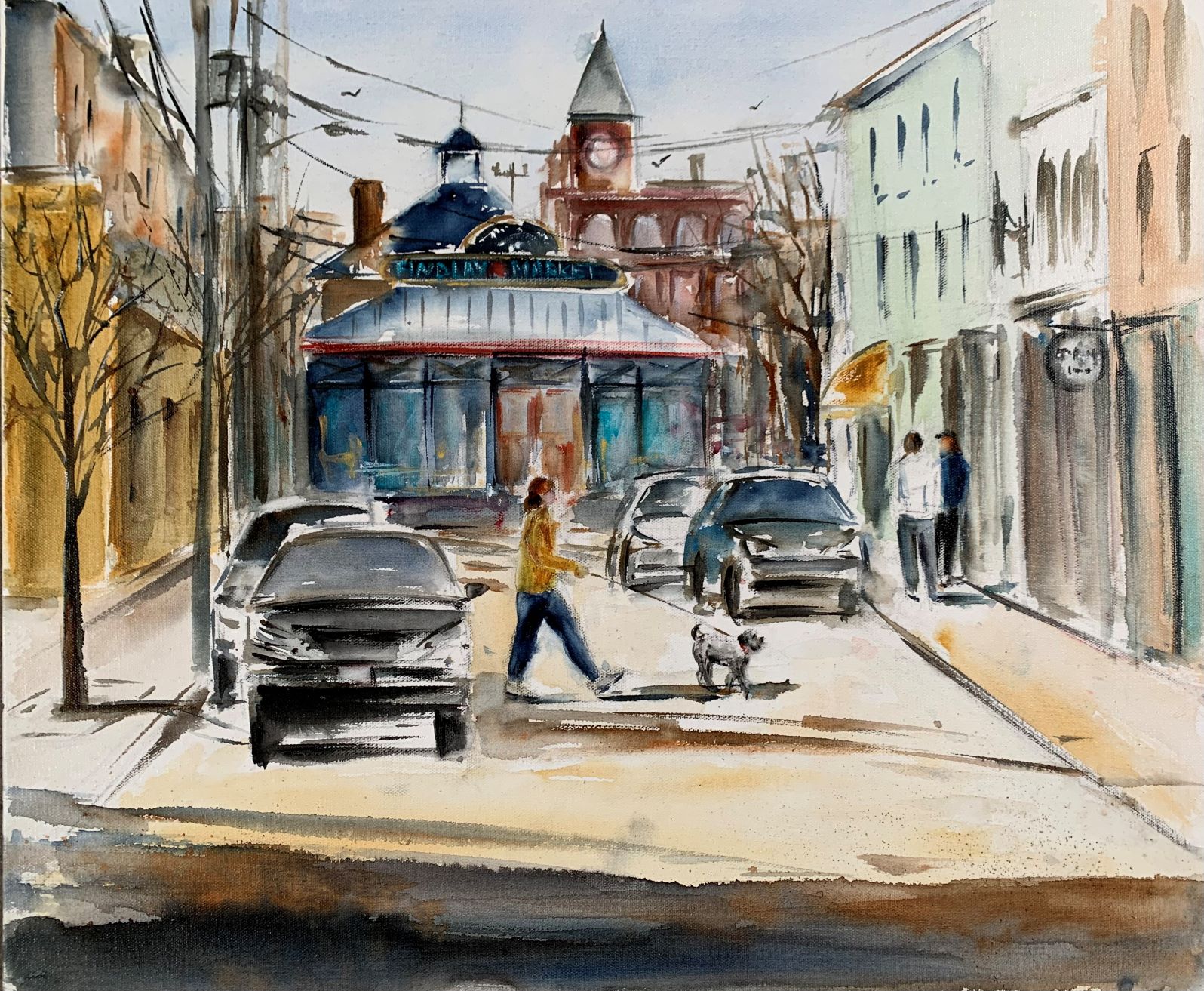 According to her bio on www.annaafsharart.com, Afshar admires paintings that are spontaneous and free. Many of her works capture scenes both from nearby cities and across the globe, from Cincinnati to Chicago and Paris to Florence, Italy.
When she travels, she frequents museums for inspiration and to learn from painting masters. Even a walk in her own neighborhood can jumpstart her imagination for what to paint next. Many of her works are plein air, meaning that they are painted outdoors.
"Every time I paint, everything I see is the abstract shapes created by any subject," she says. "That is what inspires me to paint. It's the abstraction–even a realistic or impressionistic painting is still an abstraction, an arrangement of shapes in a beautiful way."
She cites Cincinnati's Roebling Bridge as an example. Depending on the time of day and weather, light plays on the bridge's structure, creating new shapes, angles and emotions.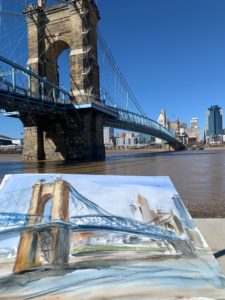 Recently, a woman in a yellow skirt standing next to a man on a bridge in Paris caught her eye. She took a few pictures, catching the woman gazing in different directions. Whether it's a dog, flower, person or nature scene, Asfhar chooses elements from her surroundings and then composes them into a painting.
Though she also works with oils and acrylics, Asfhar originally gravitated toward watercolors because it was readily available and mostly non-toxic. The medium also speaks to her free-spirited nature.
"I really like to let things go and see what happens," Asfhar says, later adding that she tries not to overthink her process. "Watercolors speak to my nature, the freedom of it, the immediacy and surprise."
Event attendees may get to see new works: Asfhar is planning to travel to Europe ahead of Art After Hours. Hopefully, she says, that will result in new plein air paintings. Either way, Asfhar loves connecting with customers and sharing the stories behind individual works.
To learn more about other featured artists, visit www.cc-pl.org/art-after-hours.
More News