Art After Hours

Meet area artists and admire a diverse exhibition of paintings, pottery, photography, jewelry and more at the 11th annual Art After Hours.
Event Details
Art After Hours: Art Exhibition, Music & Food!
Friday, July 27
7 – 9 p.m.
Carrico/Fort Thomas Branch
Our Carrico/Fort Thomas Branch will remain open until 9 p.m. to showcase the work of sixteen artists from Northern Kentucky and the greater Cincinnati region. The event is free and open to the public.
Artists
There will be 16 artists at this year's Art After Hours. Browse the slideshow below to see what art you can expect. Each of the artists will have items for sale.
Music
In addition to the displays of fabulous art, you'll also enjoy music performed by the Matt McAllister Jazz Trio.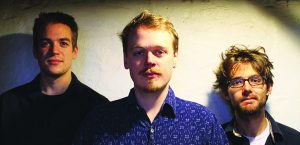 Thank You
The night will be a feast for the senses, starting with delicious sweets and appetizers from Fantasy in Frosting and Jeff Thomas Catering. The stunning floral creations of Fort Thomas Florist and Greenhouses will also be on display.
More News