Congratulations Kennedy on 1,000 Books Before Kindergarten

Kennedy Stith of Alexandria, Ky., didn't just read 1,000 Books Before Kindergarten. She read 1,000 books before she even turned 3.
Kennedy became the first child to reach the milestone since the Library began issuing 1,000 Books Before Kindergarten passports and prizes in May. She and her mom, Rachel Stith, celebrated her accomplishment at the Cold Spring branch on Wednesday, Aug. 31, two weeks before her third birthday.
The Library's 1,000 Books Before Kindergarten program is open to all children from birth to five years and participation is free. Kennedy began her journey in May. Rachel Stith said she read Kennedy 10 books a day — five before nap time and five before bed. In the program, every book counts, even repeats. Kennedy's favorites were Little Critters books by Mercer Mayer and Mo Willems' Pigeon books (Among them: Don't Let the Pigeon Drive The Bus!, The Pigeon Finds a Hot Dog!, Don't Let the Pigeon Stay Up Late!)
Kennedy's 1,000th book was read before bed on Tuesday, Aug. 30, and the next morning, she and her mom bounded into the Cold Spring branch to pick up her prizes, which included a certificate and her own forever book. After poring through her choices, Kennedy selected The Hat by Jan Brett.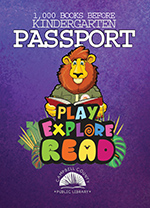 Your child can join the 1,000 Books Before Kindergarten club too. Just stop by any branch to pick up a paper reading record or download the 1,000 Books Before Kindergarten app available for Android and iOS users. Fill in a circle for each book you read with your child on your reading record or keep track with the app. Again, if your child wants to hear the same book again and again, you can count it each time. Books read at your branch's story times count too!
For the first reading record you complete, you will receive a Reading Passport. With each 100-book milestone, you will receive a sticker and the prizes listed in the passport. And when you reach 1,000, come to the Library, as Kennedy did, to celebrate and receive your certificate and free book. Find out how to get started here.
Congratulations Kennedy and keep on reading!
More Kids News