Tower Tuesdays and Jolly Thursdays Return

Head to local parks for fun (and free!) events this June and July.
Mark your calendars for Tower Tuesdays and Jolly Thursdays, which return this June and July. All events start at 10 am. No registration is required. In case of inclement weather, check out the library's website or call any of our branches.
Families can bring their own blankets and chairs as seating.
Read on for details!
Tower Tuesdays
All Tower Tuesdays take place at 10 am on Tuesdays this June and July at the Tower Park Amphitheater (900 S Ft Thomas Ave, Fort Thomas, KY 41075).
June 6: Honey Hill Farm Mobile Petting Zoo
Visit the animals of Honey Hill Farm! At this event, children can see and interact with fun farm animals.
---
June 13: Madcap Puppets Presents Fantastic Fairy Tales
See a live performance with the whole family! Flump, the royal court jester to the king, has accidentally overheard a plot by the Wizard Glistor, to turn the king into a mouse. To keep Glistor from knowing his plans, Flump entertains the crowd with stories until he can discover a way to stop Glistor's sinister scheme.
---
June 20: Talewise Presents Science Heroes
Science and stories collide in this new and interactive STEM (Science, Technology, Engineering & Math) program. Two unlikely heroes must learn to work together to stop a super-polluting mastermind.
---
June 27: Community Heroes – Touch a Truck
Celebrate our community's heroes. Plus, children will be entertained by a Cincinnati Circus balloon artist! Don't forget to climb aboard the Book Bus to pick out a free book to take home.
---
Come see, and maybe even touch, the Kentucky Reptile Zoo's sometimes slippery, sometimes slithery animals.
---
July 18: Aaron Harp Magic Show
Sit back and watch the tricks of magician Aaron Harp! Harp has over 21 years experience in magic and has even been featured on NBC's Let's Make a Deal.
---
July 25: Family Concert with Xander Wells
Dance and sing along to music performed by local musician Xander Wells.
---
Jolly Thursdays
June 8: Performance Dogs of Ohio
Dogs will perform stunts, catch frisbees/discs and more. Be prepared: They may even ask audience members to throw a disc to one of their canines (or even challenge one to a race). Stick around for a short meet and greet.
---
Slippery (and sometimes slithery) animals from the Kentucky Reptile Zoo will be at the park! You may even get to touch a few.
---
Enjoy an energetic fusion of Australian music and culture, puppetry, comedy, character-building, storytelling and audience participation. The didgeridoo is a tubular instrument known for its unique sound that has been played by Aboriginal Australians for at least 1,500 years.
---
June 29: Peanut Butter and Jam Sessions Family Concert
Enjoy jazzy tunes performed by Peanut Butter & Jam Sessions. The group aims to provide families with friendly, educational and enjoyable musical encounters.
---
July 13: Madcap Puppets Presents When You Wish Upon a Fish
See the MadCap Puppets perform When You Wish Upon a Fish live at Jolly Thursday! The Grimm Brothers are turning in their manuscript of fairy tale stories. But they have three versions of one of their tales! Which should they choose? They decide to perform all three and let the audience choose!
---
July 20: Raptors, Inc. Presents Fantastic Beasts of the Harry Potter World
Celebrate the magical creatures that Harry and Newt cherish while discovering the enchanted creatures living in our own backyard. Along with three local avian ambassadors, join Raptor, Inc. to discover local birds of prey and the amazing adaptations that make them such fantastic beasts.
---
July 27: Honey Hill Farm Mobile Petting Zoo
Visit the animals of Honey Hill Farm! Everyone can also pick out a book from the Book Bus to take home and keep.
---
Thank You
Tower Tuesdays & Jolly Thursdays are made possible with the help of the Campbell County Parks & Recreation Department, the City of Fort Thomas Parks and Recreation Department and the Campbell County Cooperative Extension Service.
---
Book Bus on Tour
Want more summer fun at local parks? The Book Bus will hit the road every Wednesday this June and July to bring fun-filled programs near you.
Check out the lineup at www.cc-pl.org/book-bus-tour.
---
Roar, Soar, Read: Summer Reading 2023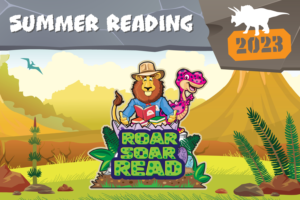 The parks aren't the only place to have fun this summer.
Every library branch will be packed with fun activities and giveaways this June & July. To make the most of your summer reading experience, check out the guide at www.cc-pl.org/summer-reading. You can also pick up an official Summer Reading brochure at any branch.
This year's Summer Reading theme is all about dinosaurs! All ages can Roar, Soar, Read this June and July. The library can't wait to see you!
---
More News
Follow Us!