Meet Egyptian Mummy Umi at March's Signature Series

Meet Umi, a mummified Egyptian child whose secrets were revealed right here in Campbell County.
Umi's past was uncovered by a partnership between the Cincinnati Museum Center and Northern Kentucky University's Allied Health Department in 2019. Learn about their discoveries from members of the department as part of our Signature Series at 7 pm Friday, March 25 at the Carrico/Fort Thomas Branch.
But first, read a few facts about Cincinnati's favorite mummy.
Who is Umi?
Now a resident of the Cincinnati Museum Center, he arrived at NKU's Health Innovation Center in 2019 where researchers performed single-slice X-rays and a CT Scan on Umi to produce new 3-D images of the child mummy.
According to an NKU press release, the printer recreated 24 amulets, which were placed over Umi's body in durable plastic. The project was a multi-disciplinary endeavor, bringing together students from radiology and public history.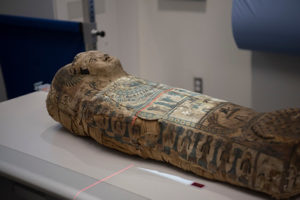 Age at death: 3-5, based on teeth and jaw
Origin: Egypt
Dated: Around 100 AD, or approximately 2,000 years ago. Umi is estimated to have been buried when Egypt was ruled by the Roman Empire.
Current location: Cincinnati Museum Center
A spring 2019 CMC exhibit featured Umi and the project's findings. Whether you missed it or just can't get enough, discover his secrets at the library's Signature Series—just in time for STEAM Month—as told by those who worked on The Umi Project.
Event Details
What: The Umi Project
When: 7 pm Friday, March 25
Where: Carrico/Fort Thomas Branch (1000 Highland Ave, Fort Thomas, KY 41075)
A short reception will follow the program. Free tickets are required. 
STEAM Month
The Umi Project lecture is part of STEAM (Science, Technology, Engineering, Art, Math) Month, which means that the library has programs all March long to entertain, educate and enthrall. 
From creating DIY circuits to lessons in Shakespearean stage combat and more, there's something for all ages and interests across our branches. Click here for more info on what STEAM Month has to offer. 
More News