Remake Learning Days

Learn about Remake Learning Days, an innovative learning festival for youth and families taking place across Greater Cincinnati.
Remake Learning Days
The Campbell County Public Library is coming together with a variety of organizations—including schools, other library systems, nonprofits, businesses and community centers—to provide hands-on educational programs to local youth.
View all of the exciting programs happening May 14-21 by visiting the link below.
Library Lineup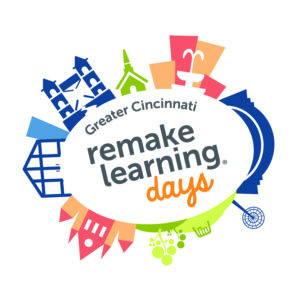 Read about the library's contributions to the festivities!
How Many Can You Spot?: Starting May 14, work with a friend or solo to complete our virtual reality room to see how much you know about children, teen and adult literature. Just download the VR room from our website to get started! All ages.
Spellbound by the Magic of Science: Learn about the science behind "magic" tricks like disappearing water, anti-gravity cups, magic fingers and floating spheres at this fun event presented by Crystal Clear Science. Held at the Carrico/Fort Thomas Branch at 4 pm on Monday, May 16. Grades 1-5.
Puppets on the Run with Madcap Puppets: Madcap Puppets will help you design your own felt friend. Learn about puppetry while flexing your creativity at the Alexandria Branch at 4:30 pm on Tuesday, May 17. Grades 1-5.
Perler Bead Fun: Head to the Newport Branch from 3-5 pm Wednesday, May 18 for an afternoon of crafting with Perler beads. Ages 11-19.
DIY Piper Computer Kits: The Piper Computer Kit is the ultimate DIY computer-building experience. Build a fully-functioning computer to learn about computer science, electronics, coding and more. Held at the Cold Spring Branch from 4-5:30 pm on Thursday, May 19. Ages 8-14.
Cincinnati Boychoir: For the Family Night edition of our Arts and Culture Series, enjoy a performance from the Cincinnati Boychoir at 7 pm Friday, May 20 at the Carrico/Fort Thomas Branch. All ages.
Early Literacy Play Date
Have a play date with early literacy at the Newport Branch on Saturday, May 14 from 11 am-2 pm. This fun program helps prepare young ones learning to read and kicks off the library's Remake Learning Days lineup.
Families can visit stations with toys and activities to encourage pre-literacy skills, including:
11 am – 1 pm: Meet a mermaid from the Cincinnati Circus.
11 am – 2 pm: Visit activity tables, the Book Bus and community vendors with resources for caregivers.
1-2 pm: Enjoy a story time presented by Books, Bibs and Beyond.
Enter to win a grand prize, which includes $50 Out of Print and $50 Gumdrop Tots gift cards, a Timber Block set, library socks, a tote bag, and a letters and numbers activity.
Children receive a free picture book, while supplies last.
More News