Q&A: Learn About 1000 Books Before Kindergarten
Encourage children ages newborn to five to read with 1000 Books Before Kindergarten. For every 100 books read to them, children receive a prize and a sticker. Reach 1000 and receive a certificate and a free book!
Want to learn more? Check out this Q&A with Stacey Venneman, the early literacy outreach librarian, where she discusses 1000 Books Before Kindergarten, how it gets children excited about reading and more with Mackenzie Manley, public relations coordinator.
Sign up for free by visiting any branch and asking for a paper log or track progress via the Beanstack app.
Manley: If you had to give an "elevator pitch" for 1000 Books Before Kindergarten, what would it be?
Venneman: One of the best ways to help your child develop important skills that will lead to success in many aspects of their life is to read, read, read together! It supports school readiness, the development of social-emotional skills, and a lifelong love of reading.
Reading together also helps strengthen your bond by sharing this time. The combination of positive interactions with a loved one while learning new vocabulary, building background knowledge, and more early literacy skills will ultimately lead to your child's success.
Manley: How do children react when they reach the final goal?
Venneman: It's amazing to see the pride kids take in reaching this goal! They look like they feel accomplished, and they love receiving their Certificate of Awesomeness and a free book they choose on their own.
It's so important to make this shared activity as enjoyable and rewarding as possible so they can develop a love of reading early on.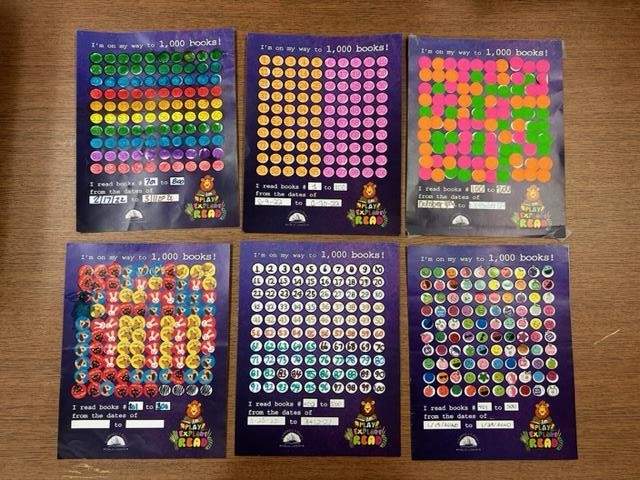 Manley: How does this program help children build their early literacy skills?
Venneman: Before learning how to read and write, children need to know six different early literacy skills – a motivation to read, print awareness, letter knowledge, vocabulary, hearing and understanding the small sounds in words, and narrative skills. 1000 Books Before Kindergarten encourages families to share books with children throughout their pre-kindergarten years to naturally develop these skills!
Choosing subjects they love to read about, running your finger under words as you read, letting them hold the book and flip the pages and asking open-ended questions as you go are all easy ways to build on those important skills.
For more tips and tricks, I highly recommend checking out Colorado Libraries for Early Literacy's webpage.
Manley: Do you have any anecdotes attached to 1000 Books you can share? 
I've noticed that we have gotten a handful of kids who have completed the program more than once, which is very impressive! I love the idea that they enjoyed reading with their grown-ups so much that it inspired them to keep up with tracking how much they read over the years.
Another thing that I love to see is the paper logs that come in all marked with stickers, markers and crayons. I keep track of these logs as well as Beanstack badges earned so I can get an overall idea of how many books are read throughout the years – it's a bonus to see the creative ways each book is counted by each family.
Manley: Do you find that 1000 Books Before Kindergarten is successful in getting participants interested in reading?
Venneman:
When we talk about this program, we like to say it's a marathon, not a sprint. Our goal is not to force it, but to encourage families to try and make a habit of sharing books. Even if we have kids participating here and there and not necessarily getting to the 1000 mark, we want to celebrate their accomplishment of making time to read.
One of my favorite things to track that shows just how much this program encourages young readers is the number of books that have been read throughout the program by all the kids participating. This past year alone this program has seen kids read 30,400 books! And over the almost seven years since 1000 Books was launched, there have been 225,690 books (and counting) read overall!
For more information, visit www.cc-pl.org/1000-books-kindergarten.
---
More News
Follow Us!