Fitting Tribute to a 'True Gentleman'

Read about one quilting club's touching tribute to a former classmate.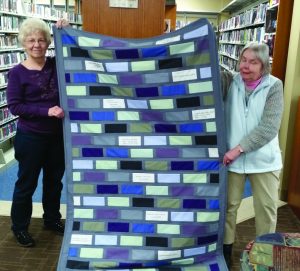 Sandie Kremer and her friends meet regularly at the Carrico/Fort Thomas Branch for an informal quilting club. In recent years, Mrs. Kremer reconnected with former St. Thomas (Fort Thomas) classmates Jim and Jan Reis. You might remember Mr. Reis as a longtime author of the old Kentucky Post's popular "Pieces of the Past" history column.
Mrs. Kremer remembered Mr. Reis succinctly: "The words to describe him: a true gentleman." So when Mr. Reis passed away in 2016, Mrs. Kremer and her quilting group went to work making a quilt made up of Mr. Reis' clothing and other keepsakes provided to her by Mrs. Reis. In March, Mrs. Kremer presented Mrs. Reis with the finished product when they met up at our Cold Spring Branch.
More News