Cam's Kids Book Club: 'What's in Your Pocket?' by Heather L. Montgomery
Tuesday, July 25, 2023
4:30 pm - 5:30 pm
Welcome to Cam's Kids Book Club:
Register for this program to get your own free copy of the book to keep! One book will be given per family.
Starting July 1st, pick up your book from the library.
Read and enjoy the book at your own pace.
Come chat about this month's book and other books you love at the Alexandria Branch on July 25th at 4:30 pm.
This month's book is What's in Your Pocket?: Collecting Nature's Treasures by Heather L. Montgomery.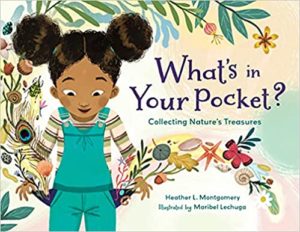 Charles Darwin, George Washington Carver, and Jane Goodall were once curious kids with pockets full of treasures!
When you find something strange and wonderful, do you put it in your pocket? Meet nine scientists who, as kids, explored the great outdoors and collected "treasures": seedpods, fossils, worms, and more. Observing, sorting, and classifying their finds taught these kids scientific skills–and sometimes led to groundbreaking discoveries. Author Heather Montgomery has all the science flair of a new Bill Nye. Book includes the Heather's tips for responsible collecting.
---
Please register all children. Only one adult per family group.
Please note any accommodation requests in the Special Needs section of the registration form.
If you have any questions, please contact Andi at aholt@cc-pl.org.
Age Range: Grades K-5
Register for this event
Only register your child(ren).
Caretakers do not need to register to attend.
Registrations are closed for this event.