Coronavirus (COVID-19) Updates

Due to the current rise of COVID-19 cases and Governor Andy Beshear's recent mandate, all library buildings are currently closed to the public. Curbside pickup is available for library items.
Curbside Pickup
Curbside pickup is available for library holds during our current hours of operation.
---
Cold Spring, Fort Thomas & Newport:
Sunday
Monday – Friday
Saturday
---
Alexandria:
Sunday – Monday
Tuesday – Friday
Saturday
---
Request items through our online catalog, app or by contacting us by phone or email. Learn how to utilize curbside pickup at www.cc-pl.org/curbside-pickup.
Library Express
Our Library Express locations in Melbourne and Silver Grove will remain open. Learn how to get items delivered to these locations at www.cc-pl.org/library-express.
Contact Us
We are available by phone or email to answer any library-related and reference questions that you may have. Contact information can be found by visiting the link below.
Safety Precautions
We take your health seriously. We are conducting temperature checks of all employees at the beginning of each work shift. All staff members wear a mask while at the library.
When picking up items for curbside pickup, we communicate by phone and place your items directly in your vehicle, preferably into your trunk. We ask that you stay in your vehicle during curbside pickup.
Library Materials/Donations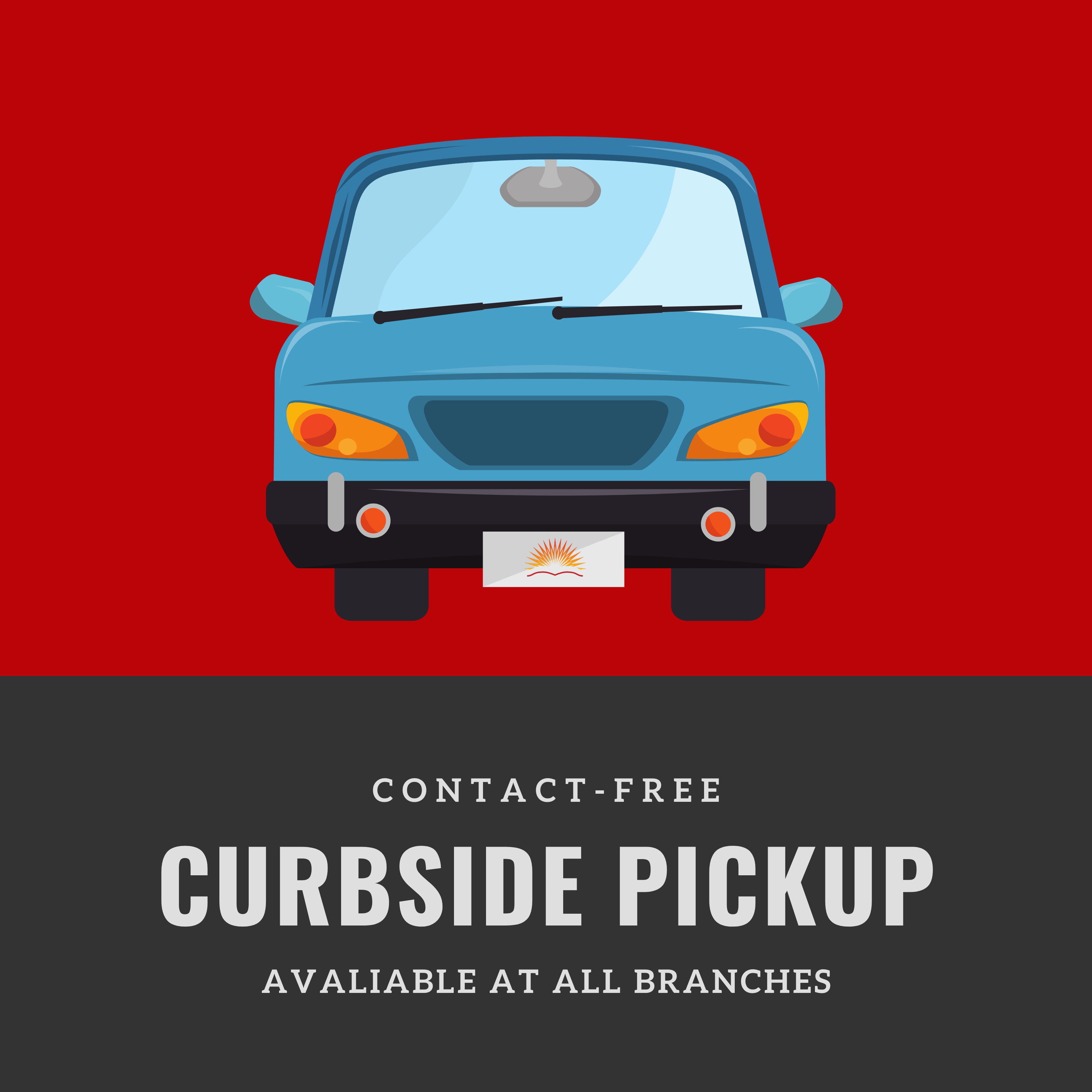 Fines are suspended until further notice. However, you are still responsible for returning your items. We will remind you to return your items, and your account will be blocked from further checkouts once an item is more than 35 days overdue. Items more than 60 days overdue will be considered lost, and we will bill you for their cost.
Returning items that you have checked out allows other patrons to enjoy them (after the quarantine period, of course).
Please use the red item return bins outside of our branches to return all library materials. Contact-free returns help protect you and our staff.
All returned items are quarantined for four days to reduce the potential for contamination. After returning an item, it will take several days before it is removed from your account. You will not accrue any overdue fines.
No library card will expire while our buildings are closed.
We are not accepting any donations of books, magazines or other items at this time.
Digital Collection
Take advantage of our digital library collection. We have eBooks, eAudiobooks and digital magazines that you can access from home on a computer, smartphone, e-reader or tablet. All library card holders may download materials from Kentucky Libraries Unbound regardless of outstanding fines, fees or other blocks until further notice.
You can also access our resources and databases from home. Visit www.cc-pl.org/resources for the complete list.
If you don't currently have a library card with us, you may sign up for a digital patron card online. This card will give you access to our digital collection and all of our online resources.
Printing
You can use your computer, smartphone or tablet to send a printing request from home. We will print the document, and it will be ready for you at the branch through curbside pickup.
All you need to do is send an email titled "Print Job" to your branch.
Printing services for up to 25 pages will be available at no charge.
Once you are notified that your documents are ready, head to the branch and call the number listed on the sign in the designated curbside pickup parking spot. Please tell us your name, and we will bring the documents out to your vehicle.
Friends Book Sales
The Friends Book Sales scheduled for Nov. 21 and Nov. 28 are canceled. A decision on the Dec. 5 and Dec. 12 sales will be announced at a later date.
Library Programs
All library programs will be virtual only until further notice. We have many online programs planned for you. View the schedule below.
Book Care Packages
Book Care Packages are available for at-home story times, and for students of all ages and reading levels. The Book Care Package will be sent to the branch of your choice and can be picked up via curbside service. Visit the link below to learn more and request your Book Care Package.
Outreach Services
Visits to group homes such as nursing homes, assisted living and senior centers are suspended. Visits to daycares, preschools and schools are discontinued until further notice.