Celebrate Kentucky Writers' Day with a good book

By Stephanie Class, Reference Assistant at our Newport Branch
Kentucky's rich writing history shows us that the Commonwealth is much more than bluegrass, bourbon, and basketball. Kentucky celebrates its talented writers each year on Kentucky Writers' Day, which takes place on Monday, April 25, 2016.
As a Reference Assistant at the Newport Branch, I'm often asked for book recommendations by our amazing patrons. This is one of my favorite aspects of the job. Since Kentucky Writers' Day is rapidly approaching, there's no better time to recommend books by our fellow Kentuckians.
Here are some of my top picks for books to help you celebrate Kentucky Writers' Day:
"The Poisonwood Bible" by Barbara Kingsolver
By all accounts, "The Poisonwood Bible" is Kingsolver at her best. Not only is this a favorite of some library staff, but it was also a favorite of the one and only Oprah Winfrey. Oh, and it was also a finalist for the Pulitzer Prize. So yeah, I think it's safe to say it's pretty good.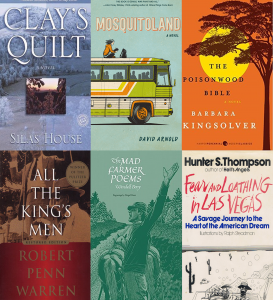 "Mosquitoland" by David Arnold
I attended a panel discussion with a group of Young Adult authors last year, and Arnold was on the panel. I hadn't read his book at the time of the panel, but immediately checked it out the next day. Arnold is skilled at creating fully-formed, interesting characters. In "Mosquitoland," he brings readers along in the passenger seat of a memorable road trip, which makes stops in Kentucky.
"Fear and loathing in Las Vegas: A Savage Journey to the Heart of the American Dream" by Hunter S. Thompson
While most people may think of his infamous Woody Creek, Colorado home when discussing Thompson, he was actually born and raised in Louisville, Kentucky. Thompson is best known as the father of Gonzo journalism. I first started reading his work as a teenager, and have been a fan ever since. His writing feels the way rock and roll sounds, and his take-no-prisoners approach to writing made him one of the most distinct voices in modern literature.
"Many-Storied House" by George Ella Lyon
Where to begin? I remember reading Lyon's children's books while growing up, and being captivated by both the stories and illustrations. My favorite was always "Come a Tide," which can be found at our Newport Branch. The great thing about Lyon's work is that her stories are interesting to the children and also to the adults reading along with them.
While "Come a Tide" remains a favorite from my childhood, Lyon's "Many-Storied House" has fascinated me as an adult. It's a great collection of poetry, and reinforces the fact that she rightfully deserves her reign as Kentucky's current Poet Laureate.
"The Mad Farmer Poems" by Wendell Berry
Berry is a prolific writer, who has ability capture the essence of Kentucky in his work. He has received numerous awards and accolades over the years, and even secured a spot in the Kentucky Writers Hall of Fame in 2015. Berry is a novelist, poet, and essayist, and his command over the written word makes it difficult to choose just one of his books to recommend. "The Mad Farmer Poems" is a great place to start for any Berry newcomer. Actually, "The Mad Farmer Poems" is a great read no matter how familiar you are with Berry's work, and benefits from multiple readings.
"Clay's Quilt" by Silas House
Circulation Assistant Alyscia Davis recommends picking up a Silas House novel to help celebrate Kentucky Writers' Day. Davis first encountered House while she was studying at Berea College, and described him as being "as intelligent and well-spoken in person as in his books." Many of his novels have received both local and national acclaim over the years, and "Clay's Quilt" has remained a favorite among his loyal fans.
"All the King's Men" by Robert Penn Warren
If Warren's 1947 Pulitzer Prize win for "All the King's Men" can't convince you to read this talented Kentuckian's novel, then maybe library staff member Erin Patton can convince you to check out a copy for yourself. "He's a well-rounded author. He's also a poet. And quite frankly his books aren't boring." Need I say more?
Who is your favorite Kentucky writer? Let us know next time you stop into a branch of the Campbell County Public Library.
More News