Catch Up with Featured Art After Hours Artists!

Ahead of Art After Hours, we caught up with two of the featured artists to discuss their work, inspirations and what they're bringing to the event.
The Carrico/Fort Thomas' annual Art After Hours program returns at 7 pm Friday, July 28 for an evening featuring the work of 16 regional artists.
One artist has been there since the first Art After Hours: Jerry Warner, a retired Northern Kentucky University biology professor who took to woodturning. Warner grew up on a small farm in Louisiana, where he says he learned to work with his hands. After retiring, he wanted to get back to working with his hands and started taking woodworking classes as a result.
Warner says Art After Hours has gained a bit of a reputation with people who now look forward to the event year after year. He adds that he appreciates being asked back every year and visiting with people he doesn't get to see otherwise.
"It's very satisfying to have people come and appreciate what I do," says Warner of connecting with people who purchase his art. "And to be appreciated enough to buy it. I try to make enough money out of my sales to pay my expenses and the cost of doing it."
So far, he says he's been successful, later adding that he appreciates how easy it is to set up at the library. One Fort Thomas customer has bought over 20 of Warner's works, many of which she's purchased at Art After Hours.
Like Warner, Jeff Prather also works with his hands. Now based in Greendale, Indiana, Prather has been slinging clay for about 20 years. His work has been exhibited in galleries and stores across Greater Cincinnati. In the early 2000s, he even had his own storefront in Covington's Mainstrasse Village.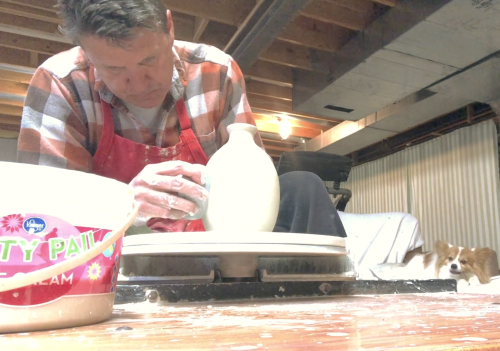 Prather says that seeing people buy his work encourages him to make more. He first got into pottery while studying at Bowling Green State University. After a friend of his wife who taught pottery gave him some clay, he was hooked.
"I bought a new wheel and I said to her, 'Now all I need is a kiln,'" recalls Prather. "She goes, 'Well there's a lady right down the street that's selling a kiln right now, too.' I go, 'Are you kidding me?' That is where it all started. And I haven't stopped since."
Prather says he'll be bringing some of his face jugs, which are molded to show various expressions, like a bemused mustached gentleman. They stand around 15-17 inches tall. Other items Prather says he'll likely bring are platters, vases and coffee mugs.
"It's really, really relaxing," says Prather. "It definitely makes you feel like you've accomplished something when you get done. A lot of people sit on the couch and watch TV but I sit in my basement and make pottery."
Warner's artistic process starts with a chainsaw. He uses regional hardwoods like cherry, walnut and maple to produce bowls, natural edge pieces, hollow vessels, writing pens and more.
"It's very satisfying work. I don't know what I would have done if I hadn't gotten into woodturning," says Warner. "But, I think for people who are retiring, it's very important to have something they have a passion for and can spend lots of time doing and enjoy doing. For me, woodturning has been that."
---
Featured Artists
After Hours will feature the work of Bill Dirkes, Dr. Jerry Warner, Craig Lipscomb, Everage King, Chris Rust, Billy Tackett, Jeff Prather, Gavin Warner, JoAnn Scharf, Sharmon Davidson, Tina Tepe, Kori Deller, Margie Lakeberg, Taliaferro Wood and Pattie Purnell.
Pick up a brochure at any branch to learn more about this year's featured artists.
---
More News
Follow Us!