Camping with the Library

Take a break in nature by pitching a tent for free at Alexandria's A.J. Jolly Park.
Hike, tell stories by a campfire, play flashlight tag, make trail mix, look to the stars and more. 
Camping with the Library
Where: A.J. Jolly Park (1501 Race Track Rd., Alexandria, KY.)
When: 1 pm Saturday, Oct. 1 to 10 am Sunday, Oct. 2
The library will host an array of fun activities for all ages, along with providing outdoor toys, games and honor books. The all-age overnight program requires patrons to register to secure a campsite. Tents only. 
Camping will take place at Camp Whippoorwill (outlined below in Magenta). The library will mail campsite passes two weeks prior to the event to those who register. For those who register within the two-week window, you may pick up the pass at the campground between 1-3 pm.
Camping is free but patrons are responsible for their own camping necessities, including food, water, equipment and safety.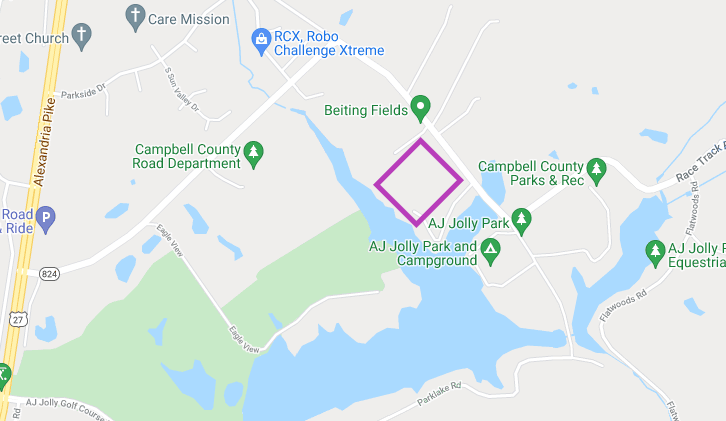 Programming Schedule
From making trail mix to meeting experts to crafts and more, there's something for everyone at Camping with the Library! Registration for individual programs is not necessary. Plan your day by checking out the following lineup:
1-3 pm – Head over to the picnic shelter to make trail mix from a variety of provided treats.
1-4 pm – Visit the Book Bus at the main entrance to Camp Whippoorwill to pick out a free book to take home.
2-4 pm – Meet experts who can teach you about a variety of outdoor-related subjects including thru-hiking and campfire cooking. This program is located along the path at the main campfire.
2:30-5:30 pm – Make your way to the picnic shelter for crafts that both kids and adults can enjoy.
3-5 pm – Hike the Environmental Education Center's nature trail while learning about local plants and animals.
6-6:30 pm – Children can gather around the campfire for a story time under the stars.
6:30-7 pm – Warm up by the campfire for spooky tales. For teens and tweens.
7:30-9:30 pm – Learn about the night sky with the Cincinnati Observatory at the picnic shelter. If the weather allows, you may even get to view the sky through a telescope. If cloudy, a craft will be provided.
8:30-9:30 pm – Play a classic round of flashlight tag. Flashlights will be provided. This activity is for teens and tweens.
Ongoing programs (during daylight)
There are also programs with no particular set time. Do the following programs at your leisure:
Story Path: Take a stroll on the Environmental Education Center's nature trail and follow the library's Story Path as you go.
Outdoor games: Enjoy giant outdoor games like blue foam blocks, Connect Four and Jenga.
A.J. Jolly Park
A big thank you goes out to A.J. Jolly Park for partnering with the library to make this event possible.
Along with library programming, A.J. Jolly Park has several available amenities for campers, including:
200-acre fishing lake
Four baseball fields
Picnic areas
Basketball
Sand volleyball
Tennis
Picnic pavilion
18-hole Frisbee golf course
A.J. Jolly also offers kayaks, canoes, paddle boards and paddle boats for rent. Patrons are responsible for their own rental fees. More information can be found regarding rentals here: http://www.ajjollypark.com/ratesandfees.html.
More News
Follow Us!