What's On Your Shelf? with Naomee McKiddy
Need to update your to-be-read (TBR) list? Check out what library staff are reading.
May sunshine means the outdoor reading season is here. Whether you're at a local park, curled up in a hammock or somewhere on a coast stretched out on sand, we've got you covered. "What's On Your Shelf?" gives staff a chance to share their most memorable and beloved reads.
This month, we caught up with Naomee McKiddy, the Alexandria Branch's adult/teen services programmer.
Her reading style changes with the seasons. In colder months, McKiddy loves to curl up on her couch and cozy up with blankets, hot cocoa and a good book. When warmer spring and summer days roll around, McKiddy says she likes to sit outside and read on her Kindle Paperwhite — a great choice for lounging by the pool since it's waterproof.
"I tend to take my time while reading, and I always carry at least one book (or my Kindle) with me everywhere, just in case I have time to read while I'm out," says McKiddy via email, adding that she can breeze through manga.
Fantasy fans, take notes. It's McKiddy's favorite genre. Right now she's reading through The Dark Crystal series by J.M. Lee, which expands on the lore in Jim Henson's classic 1980s movie of the same name. Read on for more suggestions.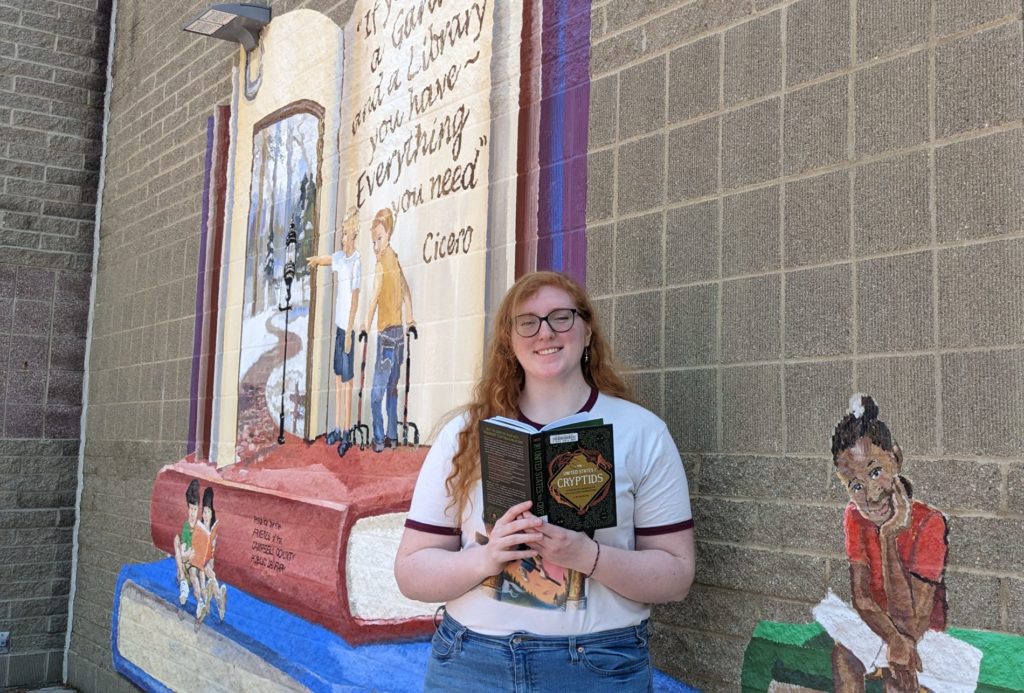 A graphic novel/manga she loves:
Komi Can't Communicate by Tomohito Oda. It's a slice-of-life series about a girl with a communication disorder wanting to overcome her social anxiety and make 100 friends with the help of her first friend, Tadano.
A fantasy world she'd love to escape into:
The Harry Potter universe. The series holds a lot of nostalgia for me; it feels like returning to a beloved place, where everything is as it should be and problems can be solved with a little bit of magic. I still listen to the soundtracks for the Harry Potter movies and video games when I need a pick-me-up.
A book she loves in a genre she normally doesn't read:
Educated by Tara Westover. I don't usually read memoirs, but I found myself relating to the author since I was also homeschooled.
The perfect read for a cozy, rainy day:
Minecraft – The Island by Max Brooks. It's a great rainy day read and a great audiobook to listen to through the Libby app. (Fun fact: the audiobook is narrated by Jack Black!)
---
More News
Follow Us!