Register to Vote

The last day to register to vote in the 2016 presidential election is Tuesday, October 11.  Registration only takes a few minutes, and the Campbell County Public Library is making it easy.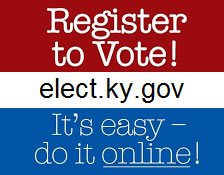 Stop by any of the Library's three branch locations to complete a Voter Registration Card.  The Library will accept completed voter registration cards until end of day on Monday, Oct. 10, and will deliver the cards to the Campbell County Clerk's office, 1098 Monmouth St. in Newport.
You also may register online.  To find out individual polling-place locations or to confirm registration, call the Campbell County Clerk's office in Newport at 859-292-3885.
Election Day is November 8. The Carrico/Fort Thomas and Cold Spring branches are voting locations and will be open from 6 a.m. – 6 p.m. for people to vote. All three branches will be open from 9 a.m. – 9 p.m. during regular business hours on Election Day.