Uncover Hidden Gems, Niche History and More with Kathy Witt (& Spotlight Series)
Kathy Witt and her husband, John, trekked across Greater Cincinnati to create Cincinnati Scavenger.
The book takes readers (and walkers) on searches in neighborhoods in and around Cincinnati, including a few in Campbell County: Newport, Fort Thomas and Bellevue.
Now you can hear them talk about the process of making the book during the library's Spotlight Series. The Witts will kick off the series with a slideshow presentation and discussion at 7 pm on Thursday, Aug. 10 at the Newport Branch.
Anyone can get in on the scavenger fun, from families to couples to friend groups. The presentation will also cover the history of scavenger hunts, which can be traced back to Elsa Maxwell.
"She was a New York City socialite who gave parties," says Kathy. "She was connected to all these celebrities and royalty and anyone who was anybody… She would have these people running through the streets of New York to collect things for her parties."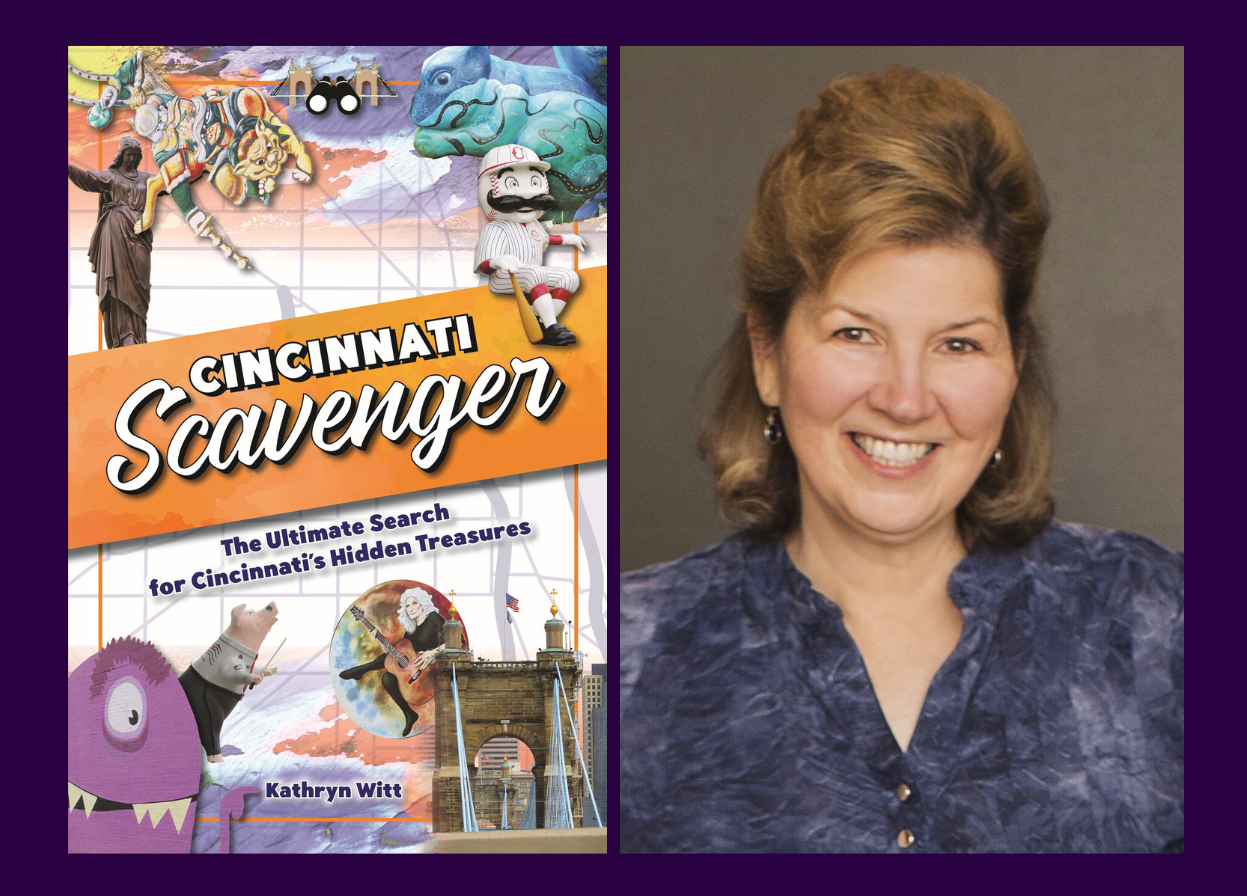 To narrow down the featured neighborhoods, Kathy said that they had to be walkable, safe and concentrated enough so that people weren't walking for miles and miles. That ultimately came out to 300 riddles and clues across 19 neighborhoods from Cincinnati, Northern Kentucky and Southwestern Indiana.
"One of the publisher's key ideas was that it should be a walk of discovery where you're learning about your hometown and finding out all these great things that you never knew about," says Kathy. "It's what happened with [John and I] when we were putting the neighborhoods together."
Kathy goes on to say that writing the book was just as much as a discovery process for her and John, who took the photos. They even explored neighborhoods that didn't make the cut. Kathy says John took about 1500 photos, which were whittled down to around 350.
"In your day-to-day life, when you're walking in a neighborhood, you're not walking for the purpose of solving riddles or looking at every little thing," says Kathy. "But that's what we had to do in going through—really focus on what was there."
Kathy says Fort Thomas was interesting because, unlike other neighborhoods, it is stretched out and linear, rather than spread across blocks. Each featured place has its own quirks, from the black squirrel statues of Glendale, Ohio to one particular restaurant linked to Shakespeare.
Kathy grew up in Cincinnati. She also penned Secret Cincinnati: A Guide to the Weird, Wonderful and Obscure. A travel writer, Kathy regularly writes for Kentucky Living, Georgia, Southern Living, Travel Goods Showcase magazines and RealFoodTraveler.com. She also has a monthly travel column in the Tribune News Service.
On the day of the interview, Kathy was two weeks out from a trip to Iceland, one of her bucket list destinations. Her work has taken her everywhere from the glaciers of Alaska to Norway to the castles of Russia and more. And yet, as Cincinnati Scavenger indicates, there's still so much waiting to be explored at home.
Other Spotlight Series Talks
Two other talks follow the Witts. All talks take place on Thursdays at 7 pm at the Newport Branch. On Aug. 17, Paul L. Whalen will discuss his book Senators of Kentucky. And on Aug. 31, Emily Bingham will close out the series with a discussion of her book My Old Kentucky Home, which takes a look at the long, strange journey of Stephen Foster's anthem.
Registration is required. For more info, visit www.cc-pl.org/spotlight-series-2023.
---
More News
Follow Us!