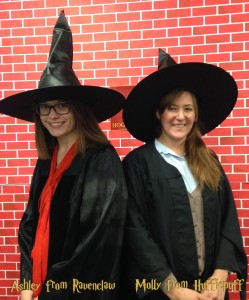 Mark your calendars and be on the lookout for an owl because on February 4, 2016 the Cold Spring Branch of the Campbell County Public Library will celebrate Harry Potter Book Night.
This exciting event gives new and existing fans a chance to share the wonder of J.K. Rowling's unforgettable stories and, most excitingly, to introduce the next generation of readers to the unparalleled magic of Harry Potter.
This is Cold Spring Children's Librarian Ashley Wright's favorite program of the year. As longtime fans of both the books and the films, Ashley and programmer Molly Seta have been planning this afternoon for months.
The young witches and wizards who register to attend can expect an afternoon of magic. If you register your child before Saturday, they will receive a letter from Madame Ashley (Ravenclaw) & Madame Molly (Hufflepuff) inviting them to Diagon Alley.
Once they arrive at Diagon Alley, there will be a wand ceremony, personal quills, owl painting and copies of "The Daily Prophet!"
This program is for kids 6-12. Register online.
For older Potter fans, Adult/Teen Programmer D Pina will be hosting a Harry Potter Roleplay event at 6:30 p.m. These wizards (ages 11-19) will be playing a role playing game in which they play as a wizard in the wizarding world.
More Kids News
Harry Potter Board on Pinterest
Follow Campbell County Public Library Kentucky's board Harry Potter on Pinterest.