An Out-of-This-World Bench Has Landed for Good at the Carrico/Fort Thomas Branch

Earlier this summer, a green humanoid creature with jet-black eyes landed at the Carrico/Fort Thomas Branch. Now it is here to stay.
The strange specimen came not from a galaxy far, far, far away but straight from the imagination of Chris Rust, a local chainsaw artist and firefighter. Placed outside the Carrico/Fort Thomas Branch, the bench features a life-size carving of an alien holding a bushy-tailed rabbit. Another rabbit scurries at the bench's feet.
Rust says the bench was initially created for a chainsaw carving competition in Metamora, Indiana. Developed over the span of two days, his creation became available for purchase. While most carvers chose more traditional subjects like bears or eagles, Rust wanted to stand out.
"I had a little extra wood there so I wanted to make a cute, whimsical piece instead of one that was way, way far out there," Rust says of including the rabbits in the carving. "I wanted to make it more appealing to kids and families."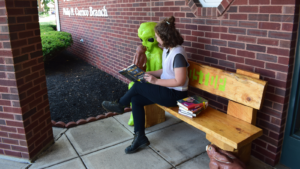 The artwork was later purchased by Nicholas Summe, a Covington-based lawyer. Self-described as an amateur carpenter, Summe says he has long been a fan of chainsaw art.
Before receiving the bench, it was going to briefly be displayed outside of the library. Summe was visiting the branch with his infant son when he noticed other children looking at the bench.
"I knew that kids would walk by it every day and think it was really cool and be excited," Summe says. "It would make them think and it could be part of a little library adventure because more kids need to get in the library. I decided to buy it and donate it. Simple as that."
Fort Thomas residents may recognize the friendly extraterrestrial from their counterparts located throughout Highland Hills Park's trails. Along with eight other woodland figures, Rust carved three aliens that can be found while exploring the park.
Summe recalls growing up in Fort Thomas on Ridgeway Avenue before the trails were mapped out. He and his friends used to cut through the woods to get across town and visit one another's houses.
"I spent countless hours back in those woods as a child, so it was really cool to walk those trails and see how they were redone, find all the little carvings everywhere," Summe says. "He's got squirrels and this and that. Then we found the aliens. I was like, 'Man, this is really cool.'"
The trail carvings are, in part, what spurred Rust's business. When planning the trails, there was a section of ash trees infested by emerald ash borer, an invasive beetle species. When they took the trees down, Rust used the scraps to make small carvings. The first few were minimal, but his work became more detailed as he continued. Eventually, his art grew into a business.
How does he find wood for his pieces? Rust coordinates with a local tree company to carve his work out of materials that are readily available.
"It creates a positive thing out of something that's negative, that would go to waste," Rust says. "I'm not going out there and specifically looking at a tree to cut down. I don't do that. I won't take a tree just to carve."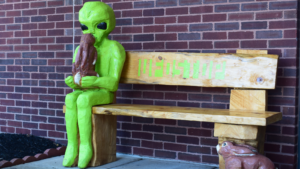 Aside from carving, Rust has worked at the Fort Thomas Fire Department for 22 years. He says that, while juggling the two jobs is one of the biggest challenges he faces, carving helps ease the stress of being a fireman. He's also a father of three. One of his children, Chay, works at the Carrico/Fort Thomas Branch. Chay often tells his dad stories of patrons sitting with the alien, complimenting it or snapping photos.
"It's fun because I think it's good for kids. They go to the library to read stories and everything else. But [the carving] expands the imagination," Rust says. "And it's actually quite a comfortable bench to sit on so they can even read on it."
He also notes that patrons can walk the trails and read a book out there, too. From Highland Hills Park to the library, benevolent slime-colored aliens—whether flashing a peace sign, holding cute critters or curled up on a log—can now be found throughout Fort Thomas, cementing their legacy as a small-town wonder.
---
To learn more about Rust's work or to commission a piece, visit www.crcarving.com.
---
More News
Follow Us!