New Easy Reader Labels

Young ones and parents can use our new labels to find and select just the right Easy Readers.
Sophia Bussberg, age 4, of Alexandria, reached an amazing milestone recently: she read her 5,000th book. As you might imagine, she and her family are library regulars.
"All those books," said Aminta Bussberg, her mom. "She loves reading and reading and reading."
We are making it easier for all young children to love "reading and reading and reading" with fun, new Easy Reader labels.
Easy Reader Labels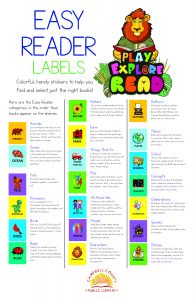 Previously, Easy Readers, books for young children, were organized like all other books in the library: by type – "E" for Easy Reader – and then by the author's last name. Children and caregivers wanting books about a particular topic had a hard time finding them. With our new labels, topics are grouped together.
Colorful stickers span 20 different categories. Some categories will be self-explanatory, such as Animals, Birds, Bugs, Dinosaurs, Farm, Ocean, School and Things that Go. Other categories are broader and encompass multiple concepts, such as Authors, Characters, People and Play.
Download the Easy Reader category poster.
You can come test out the new organization method for yourself at all of our branches. A scavenger hunt is available in each of our children's sections to help you familiarize your children with the new categories. We even have a special surprise (while supplies last) behind the desk for when children complete the scavenger hunt.
1,000 Books Before Kindergarten
Sophia is sure to find selections in all the categories on her regular visits to our Cold Spring and Alexandria branches.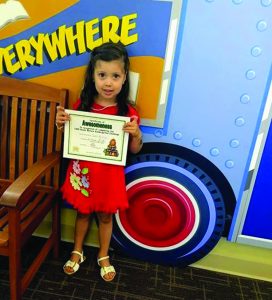 Her favorite Character category books are "Maisy" by Lucy Cousins – she loves Maisy and her friend Tallulah. Sophia has a wide variety of interests, including karate (in the Play category), which she just started learning, and the planet (in the Places category).
"Every night we read 10 books, then the next day we read another 10," Aminta Bussberg said. "We have books everywhere."
Sophia recites "Brown Bear, Brown Bear, What Do You See?" by Bill Martin Jr. from memory and is even starting to recognize letters and words, just in time for when she starts school in the fall. "She's really ahead," her mom said.
Sophia's most recent milestone makes her a five-time conqueror of 1,000 Books Before Kindergarten. The program is another way young ones from birth to age 5 can learn to love reading at the library. Participation is free; just stop by any branch to pick up a paper reading record or download the 1,000 Books Before Kindergarten app available for Android and iOS users to get started.
More News