CANCELED: Family Board and Card Game Day
Sunday, March 15, 2020
1:00 pm - 5:00 pm
Due to the health risks surrounding COVID-19, all library programs scheduled to take place through April 18 have been canceled. The health and safety of our patrons and staff are our top priority.  Please visit https://www.cc-pl.org/coronavirus for additional information.
Bring your family down to the library for some fun tabletop board and card games!
Choose any game from our collection, or bring a favorite from home.
Spend time with the family in a face to face situation with games you know or new ones you can learn to play together.
We carry more than 300 board and cards games.
Try our Game of the Month
Catan Junior: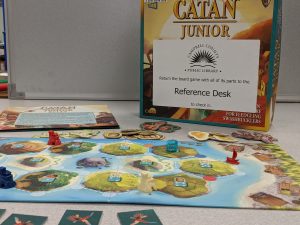 Ever play Settlers of Catan?  Try this one, made for the whole family! CATAN Junior is for families with children ages 6-9. Simplified building rules, child-oriented trading, and a more innocuous robber equivalent called the "Ghost Captain" provide access to the world of CATAN games.
Age Range: All Ages
Snacks Provided: Yes