Coffee & Conversation—'Trick Mirror: Reflections on Self Delusion' by Jia Tolentino
Wednesday, March 8, 2023
2:00 pm - 3:00 pm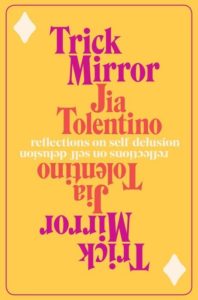 Trick Mirror is an enlightening, unforgettable trip through the river of self-delusion that surges just beneath the surface of our lives. This is a book about the incentives that shape us, and about how hard it is to see ourselves clearly in a culture that revolves around the self. In each essay, Jia writes about the cultural prisms that have shaped her: the rise of the nightmare social internet; the American scammer as a millennial hero; the literary heroine's journey from brave to blank to bitter; the mandate that everything, including our bodies, should always be getting more efficient and beautiful until we die.
Coffee will be provided by Fort Thomas Coffee.
---
Please note any accommodation requests in the Special Needs section of the registration form.  If you have any questions, please contact Natalie at nshadrick@cc-pl.org.  Please see all our program offerings in our online newsletter at https://www.cc-pl.org/connections.​
Age Range: 18 and Up
Carrico/Fort Thomas Branch
Register for this event
Registrations are closed for this event.