Camping with the Library: Campsite
Saturday, October 2, 2021
1:00 pm
Join the library at A.J. Jolly's group campsite to go camping! Camping is free of charge. However, patrons are responsible for their own camping necessities including food, water, equipment and safety. Registration is required.
The library will have a variety of outdoor toys and games available for use as well as honor books that may be read and returned to any library branch or to one of our express units.
Camping will take place at Camp Whipperill. The library will mail you a campsite pass two weeks prior to the event. If registration occurs within the two week window, you may pick up your pass at the campground between 1-3pm.
The camping area is outlined below in magenta.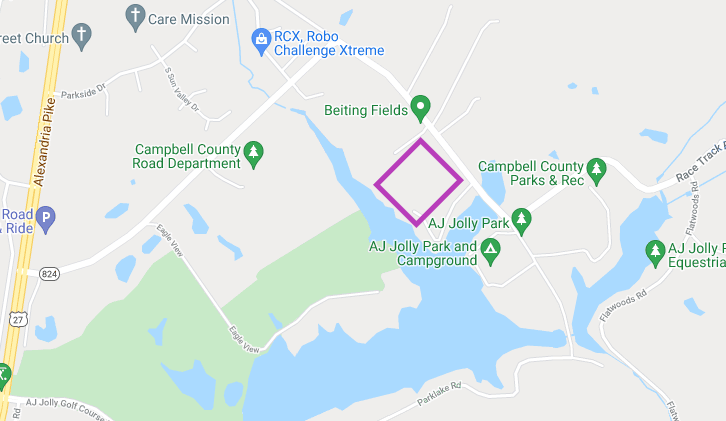 The library will be providing several programs throughout the night. Registration for each individual event is required. You are not required to camp with the library to attend events; patrons camping on their own in the park, or those who choose to come solely for a program, are also welcome.
Registration links for each program are below. Some programs are duplicates of the same program (Camping Crafts, Kayaking, Campfire Cooking, What's Up in the Night Sky). Please only register for one session of each of these programs.
What's up in the Night Sky (8pm)
What's up in the Night Sky (9pm)
A.J. Jolly Park
We want to thank A.J. Jolly Park for partnering with us to make this event possible!
A.J. Jolly has many amenities that will be available to campers including:
200 acre fishing lake
4 baseball fields
Picnic areas
Basketball
Sand volleyball
Tennis
Picnic pavilion
18-hole Frisbee golf course
A.J. Jolly also offers kayaks, canoes, paddle boards and paddle boats to rent. Patrons are responsible for their own rental fee. More information can be found regarding rentals here: http://www.ajjollypark.com/ratesandfees.html.
Register for this event
Registrations are closed for this event.