Books that Made Staff Fall Back in Love with Reading

Even the most voracious bookworms find themselves in reading slumps, or a time period where no book seems to hold your interest.
There are countless reasons as to why one may experience this, from having just finished a book so amazing that no follow up seems to compare or just due to mental exhaustion. If you've found that the pandemic has zapped your motivation to read, you're not alone.
We asked our staff to share books that made them fall back in love with reading after slumps. Here are their answers. We hope they inspire you!
Carrico/Fort Thomas Branch
Ready Player One
by Ernest Cline
"This child of the '80s was gifted the paperback in late 2019 with explicit instructions not to see the movie. I placed it on my shelf until my nightstand stack was finished. After what seemed like the 500th day of March 2020, the universe gifted me (wink-wink) with nothing to do. I needed a great adventure (not my go-to) and context for a headline that read, "Should you hunker down like Wade Watts in a pandemic?" I cheered, cussed, and winced for Wade, laughed at how clever the story was crafted, and finished its 375 pages in less than 4 days. Rather than end-of-the-book emptiness, I was relieved, empowered, and glad my literary hiatus was over." 
– Craig Branch, adult/teen programmer, Fort Thomas Branch
---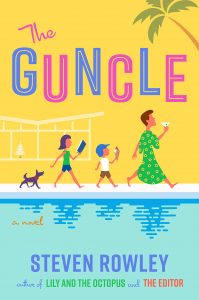 The Guncle
by Steven Rowley
"This feel-good title will keep you smiling and may even make you cry at its heartfelt moments of friendship and family. Patrick is a failed sitcom star and the Guncle (gay uncle) to his brother​'s two children, Grant and Maisie. When tragedy strikes the family, suddenly Patrick is flung into not-so-willing parenthood for the summer." 
– Morgan Lockard, adult/teen services librarian, Fort Thomas Branch
---
Cold Spring
Sorcery of Thorns
by Margaret Rogerson
"In this magical world, books can transform into creatures made of ink and leather, which is why they're usually kept chained up. It follows a girl who was raised in a library after it was attacked, causing the release of its most dangerous grimoire. This standalone is fast-paced, filled with magic, romance and hope." 
– Danielle Turner, adult/teen services programmer, Cold Spring Branch
---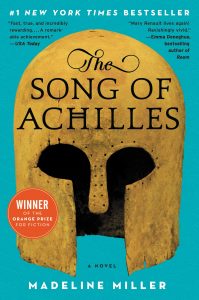 Song of Achilles
by Madeline Miller
"It is beautifully written and I cared about the characters deeply. Although it is a retelling of a story from Greek mythology, Miller's story feels fresh and kept me guessing about how things would unfold. It reminded me of how strong of an emotional connection I can have to a book, especially after a reading slump. I can't recommend it enough!" 
– Katherine Sallee, patron services assistant, Cold Spring Branch
---
Newport Branch
White Trash Warlock
by David R. Slayton
"It follows Adam Binder, a kind-of-sort-of witch who lives with his aunt in an Oklahoma trailer park, hundreds of miles away from his estranged brother and mother. He swore he would never forgive them for what they did to him as a teen, but then his brother calls: His wife is possessed. Adam reluctantly agrees to help, but the spirit behind the possession might be more than his powers can handle. He'll have to ask for help from the magical community of elves, dwarves, and leprechauns of Denver, Colorado before even more magic users end up dead. Slayton is an excellent writer, and the pace of this book was perfect for getting back into the habit of reading." 
– Leah Byars, collection services assistant, Newport Branch 
---
Administration
The Henna Artist
by Alka Joshi  
"The story was captivating and emotional. I couldn't wait to find out where it was going. I listened to the audiobook and the narrator, Sneha Mathan, did a lovely job reading it." 
– Amy Carroll, adult/teen programming coordinator 
---
Outreach Services
Percy Jackson and the Olympians
by Rick Riordan
"When I get in a reading slump I like to go back and read the books I loved growing up. Some of my favorites are Percy Jackson & the Olympians by Rick Riordan and The Hunger Games ​by Suzanne Collins. Re-reading books that made me fall in love with reading as a kid helps me regain the motivation to read." 
– Andrea Holt, outreach services assistant 
---
More News