Bake Alongside the Great British Baking Show's 6th Season on Netflix

In celebration of the Great British Baking Show returning for its sixth season on Netflix, we've compiled a list of star-baker-worthy cookbooks.
Known as the Great British Bake Off (GBBO) in the U.K., the competition show is the ultimate comfort watch. Each season, a group of amateur bakers arrive at the "tent" to go head-to-head in a series of rounds to impress the judges.
It is, in every sense of the word, quaint. So quaint that viewers will likely find themselves inspired to set off on their own bakes. Read on for a few cookbooks to get you started.
Cookbooks from GBBO Alum

Baking with Mary Berry by Mary Berry
Mary Berry judged alongside Paul Hollywood from 2010-2016, when GBBO moved from BBC to Channel 4. (Between network changes, GBBO has 12 seasons under its belt.) Longtime fans still praise Berry, who has authored over 75 cookbooks. She's responsible for coining one of the show's most popular phrases, "soggy bottom," aka when the pastry portion of a pie is underbaked or overfilled. To avoid that dilemma, learn how to bake everything from pastries to cakes from the master herself.
---

The Wicked Baker by Helena Garcia
Need some inspiration for Halloween treats? Self-proclaimed kitchen witch Helena Garcia made her mark in the GBBO tent in 2019 with her ghoulish bakes. Eaters beware, these recipes⁠—which include mummified eclairs and bat-shaped cookies—are to die for.
---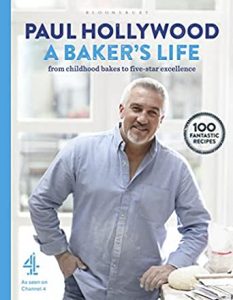 A Baker's Life by Paul Hollywood
It wouldn't be a GBBO roundup without Paul Hollywood, the longtime judge both loved and reviled by fans. Whatever your opinion of Hollywood, the show wouldn't be the same without him. A Baker's Life includes 100 of his recipes, with each chapter delving into bakes from different decades of his career as a baker. From his childhood working at his father's bakery, to being a pastry chef and working in Cyprus, it traces all the way to his current gig as host of the Great British Baking Show.
---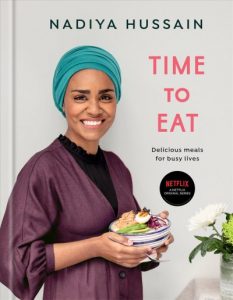 Time to Eat by Nadiya Hussain
Nadiya Hussain has authored several cookbooks since winning GBBO in 2015, including Time to Eat. Her book covers more than baking, with recipes for breakfast, lunch, dinner and dessert. Staying true to its tagline—delicious meals for busy lives—these recipes cater to those juggling work and family responsibilities.
---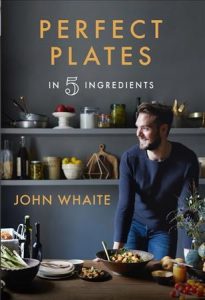 Perfect Plates in 5 Ingredients by John Whaite
John Whaite took home the cake stand—what winners receive, along with a flower bouquet—in 2012. Like Nadiya, his cookbook covers more than baked goods, but readers would be remiss if they didn't try his desserts! With only 5 ingredients (plus the basics of salt, pepper, butter, etc.) per dish, Whaite's recipes aim to be both accessible and fun to serve.
---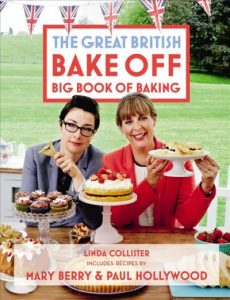 The Great British Bake Off: Big Book of Baking by Linda Collister
Recipes from Paul Hollywood, Mary Berry and contestants from Bake Off's early seasons are included in this scrumptious cookbook sure to make you quip, "That's a nice bake!"
---
More Cookbooks from Our Collection

The Baking Bible by Rose Levy Beranbaum
Hailed as the "diva of desserts" and "the most meticulous cook who ever lived," legendary baker Rose Levy Beranbaum has put together an extensive cookbook stocked with recipes for cakes, pies, tarts, cookies, candies, pastries, breads and everything in between.  Readers can expect thorough instructions that deliver stunning results.
---

Baking at République by Margarita Manzke
Pastry chef Margarita Manzke has, like Paul Hollywood, worked in kitchens since she was young, starting with her mother's restaurant in Manila, Philippines. Co-owner of the famous République Café, she was nominated in 2017, 2018 and 2019 for Outstanding Pastry Chef from the James Beard Awards. Basically, she's a baking master. Her first cookbook includes recipes for breads, pastries, fillings and more. Cream-filled Italian doughnuts topped with cinnamon streusel and marshmallows, anyone?
---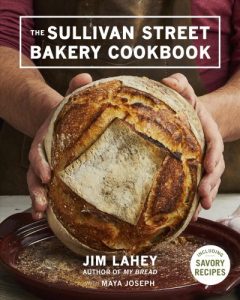 The Sullivan Street Bakery Cookbook by Jim Lahey
Bread Week proves time and time again to be one of The Great British Baking Show's most nail-biting challenges, doubly so when you consider that Paul Hollywood is a stickler for the stuff.  Hone your own bread-baking skills with this illustrated guide from one of Manhattan's best bakeries. Founded in 1994 by James Beard Award-winning baker Jim Lahey, Sullivan Street Bakery is known for its perfectly-crusted bread and other cafe staples.
---
More News