What's On Your Shelf? with Randy Warpool
Need recommendations for your next great read? Our library staff has you covered.
What better place to get ideas for books to add to your to-be-read (TBR) list than your local library? In this series, the library's communications department asks library staff, "What's on your shelf?" Learn about titles library staff love, have on their own lists and more! This month features Randy Warpool, a Cold Spring information services assistant.
Warpool has a penchant for science fiction and post-apocalyptic stories; he's currently reading Upgrade by Blake Crouch, which speculates about the future of gene editing.
"I love how libraries have evolved to support folks who enjoy different types of media," says Warpool when asked what he loves about libraries. "Whether it's books, DVDs, audiobooks, music CDs, or electronic media – libraries now have you covered!"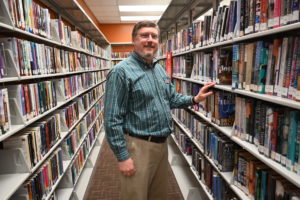 Make sure you check out CCPL's collection to see all CCPL has to offer, from magazines to valuable services to movies and more.
A fun fact about Warpool? He'd like to shout out to all the other slow readers out there, adding that he loves it when a book prompts him to take breaks for consideration or research.
Explore Warpool's picks below.
A book currently on his bedside (or kitchen) table: For a while now, I have had the pop music trivia book Anatomy of a Song by Marc Myers on my nightstand, because I like to read bite-sized stories about the origins of popular music I enjoy.
His favorite book-to-movie (or TV show) adaptation: Game of Thrones series by George R.R. Martin. I was blown away by the books, and the TV series only added to my enjoyment of them. I am apparently one of the few people who was not disappointed by the TV ending; I found it to be a pretty logical extension of the plot threads in the books.
A book that changed his perspective: The Autobiography of Malcolm X – cowritten by Malcolm X and Alex Haley. Reading this in high school was a really eye-opening experience for me.
A historical fiction book he loves: Not sure how well it fits into the historical fiction category, but I thoroughly enjoyed Cloud Cuckoo Land by Anthony Doerr. The book lover in me appreciates how it shows works of literature can deeply affect very different people across the centuries.
His go-to author: In recent years, I have enjoyed many of the books by Carl Hiaasen. The author of Hoot is always a hoot in my book. ?
---
More News
Follow Us!