What Your Favorite Book of 2021 Says About You

Raise a toast to the books of 2021, from the most-anticipated to rollicking sci-fi and everything in-between.
Your favorite book of 2021 may be just as revealing of your personality as your Zodiac or a Buzzfeed quiz. While not foolproof, here's a roundup of popular books published in 2021 and what they may say about you if they make your personal "Best of 2021" list.
What Your Favorite Book of 2021 Says About You
People We Meet on Vacation
by Emily Henry
Was this your beach read pick of 2021? Either way, you're a sucker for the friends-to-lovers trope and 1990s romantic comedies.
---
Malibu Rising
by Taylor Jenkins Reid
You may have also read this on the beach—perhaps swayed by the cover's dreamy blue ocean—but this bestseller is packed with enough family drama to make Little Fires Everywhere blush. You love face-paced reads that give you all the feels.
---
Beautiful World Where Are You?
by Sally Rooney
If you're a Sally Rooney fan, I'd bet that you own at least five tote bags, have bangs and have a penchant for sad folk music. Since all of Rooney's books follow young people navigating life and love in Ireland, Dublin may be one of your dream vacations. You also have a fascination with messy, sometimes unlikeable, characters.
---
Crying in H Mart
by Michelle Zauner
You're a foodie who loves a cathartic cry. In this memoir, Michelle Zauner reconnects with her Korean-American heritage as she grapples with the loss of her mother in her mid-20s; if you love this book, it's safe to say that you don't shy away from big feelings. Zauner is also the frontperson of the band Japanese Breakfast, so you have a soft spot for a good indie rock record.
---

The Final Girl Support Group
by Grady Hendrix
You really love horror. Like Randy from Scream, you've got the formula to scary flicks down pat and win big at trivia night. Hendrix's latest book, which follows five actual final girls and their therapist, is a homage to slashers—and the women who beat the odds to escape the killer.
---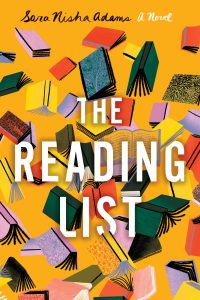 The Reading List by Sara Nisha Adams
Hello, library lover! You're a bookworm who cherishes storytelling and champions literacy for all. Perfect for fans of both traditional and modern classics, you read this book in your very own cozy nook—and loved every second of it. 
---
Project Hail Mary
by Andy Weir
Space: The final frontier. Nothing stirs your imagination like a fun science-fiction novel. Andy Weir's Project Hail Mary tale of Ryland Grace, the sole survivor on a mission to save Earth, did just that. You love adventure, discovery and jaw-dropping twists. 
---
Honey Girl
by Morgan Rogers
You've seen all of the indie coming-of-age classics and can't get enough of their existential, angsty ponderings on the messiness of young adulthood. It follows high-achiever Grace Porter, whose life is turned upside down after completing her Ph.D. and celebrating in Las Vegas, where she drunkenly marries a woman she doesn't know. You're always on the quest to find yourself and love characters who do the same.
---
The Last Thing He Told Me
by Laura Dove
A top book club pick, including one by Reese Witherspoon, you may have read this with a group of pals. Hailed as a riveting mystery, you're also a true crime aficionado who is a pro at linking clues together. 
---
Where the Deer and Antelope Play
by Nick Offerman
As a fan of Parks & Recreation, you came for Ron Swanson and stayed for Offerman's insights on humanity's relationship with nature, conservation and the importance of connecting with outdoor spaces. I'd also wager that you love a good hike.
---
More News