Travel Stories for Your Bucket List

If you miss traveling and want to fulfill that wanderlust, these titles will help you plan future trips and inspire your bucket list.
Books
Wild: From Lost to Found on the Pacific Crest Trail by Cheryl Strayed
A powerful, blazingly honest, inspiring memoir: the story of a 1,100 mile solo hike that broke down a young woman reeling from catastrophe- and built her back up again.
---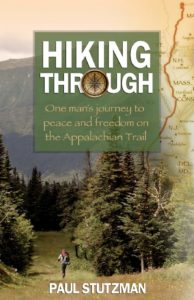 Hiking Through: One Man's Journey to Peace and Freedom on the Appalachian Trail by Paul Stutzman
With breathtaking descriptions and humorous anecdotes from his 2,176-mile journey along the Appalachian Trail, Paul Stutzman reveals how immersing himself in nature and befriending fellow hikers helped him recover from a devastating loss.
---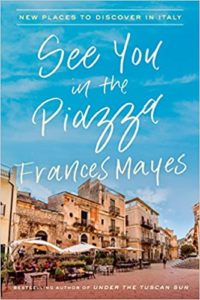 See You in the Piazza by Frances Mayes
The Roman Forum, the Leaning Tower, the Piazza San Marco: these are the sights synonymous with Italy. But such landmarks only scratch the surface of this magical country's offerings. In See You in the Piazza, Frances Mayes introduces us to the Italy only the locals know, as she and her husband eat and drink their way through thirteen regions—from Friuli to Sicily. Along the way, she seeks out the cultural and historic gems not found in traditional guidebooks.
---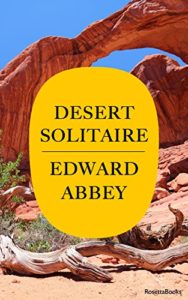 Desert Solitaire by Edward Abbey
Edward Abbey lived for three seasons in the desert at Moab, Utah. What he discovered about the land before him, the world around him and the heart that beat within, is a fascinating, sometimes raucous, always personal account of a place that has already disappeared, but is worth remembering and living through again and again.
---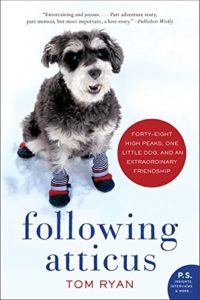 Following Atticus by Tom Ryan
After a close friend died of cancer, middle-aged, overweight, acrophobic newspaperman Tom Ryan decided to pay tribute to her in a most unorthodox manner. Ryan and his friend, miniature schnauzer Atticus M. Finch, would attempt to climb all forty-eight of New Hampshire's four-thousand-foot peaks twice in one winter while raising money for charity.
---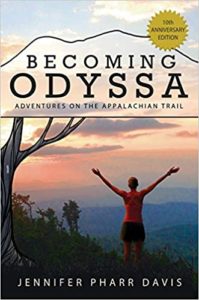 Becoming Odyssa by Jennifer Pharr Davis
After graduating from college, Jennifer isn't sure what she wants to do with her life. Though inexperienced and unprepared, she feels drawn to the Appalachian Trail and sets out along on the long-distance footpath that stretches 2,175 miles from Georgia to Maine. The next five months are the most physically and emotionally challenging of her life- coping with blisters and aching shoulders, hiking through endless torrents of rain and a blizzard, facing unwanted company and encountering tragedy. The trail becomes a modern-day Odyssey that tests Jennifer's faith in God, humanity and herself.
---
Audiobooks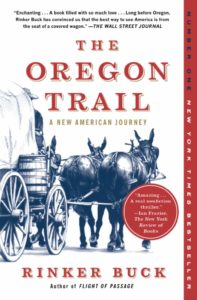 The Oregon Trail by Rinker Buck
This is the true story of Rinker Buck and his brother Nick traveling the Oregon Trail in 2011, the first men in 102 years to accomplish the journey. Rinker Buck's The Oregon Trail is a major work of participatory history: an epic account of traveling the entire 2,000-mile length of the Oregon Trail the old-fashioned way, in a covered wagon with a team of mules — which hasn't been done in a century — that also tells the rich history of the trail, the people who made the migration and its significance to the country.
---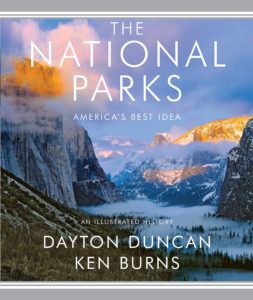 The National Parks: America's Best Idea by Dayton Duncan and Ken Burns
Simultaneously a biography of both historical and contemporary characters, this 12-hour, six-part documentary traces the evolution of national parks beginning in the mid-1800s and follows it over the next 150 years.
---

National Parks Adventures by Noah Adams
Grand Canyon National Park is one of the planet's Seven Natural Wonders, with 4.4 million visitors each year. Who keeps them safe, fed and happy? When the wind blows at White Sands National Monument, legend says the centuries-old ghost of a Mexican maiden appears in the shifting sands. This colorful collection goes behind the scenery at America's most popular national parks. It also visits lesser-known parks with thought-provoking tales to tell.
---

Grandma Gatewood's Walk by Ben Montgomery
Gatewood's diaries, journals and correspondence document the life of the first woman to hike the Appalachian Trail alone in 1955, as well as her efforts to bring public attention to the once little-known footpath.
---
Magazines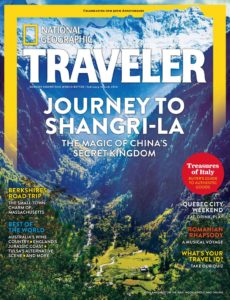 National Geographic Traveler
National Geographic Traveler is the world's most widely read travel magazine. With captivating storytelling and beautiful you-are-there photography, the magazine brings you the world's best destinations.
---
Trail: The Mountain Expert Issue
If you love to sling on a backpack, head for the hills and do some wild camping, Trail Magazine is for you. Each issue is packed with routes with full OS mapping and reviews of the latest outdoor kit. Trail specializes in the most beautiful, most spectacular and most challenging regions of Britain and Europe and informs you about all the tools you need to explore them.
---

Outside
Outside helps readers be passionately committed to leading an active lifestyle. Outside not only motivates readers to uncover and define their own personal day-to-day adventures but also provides them with the tools, products and information to fulfill them.
---
Digital Escape Room
Join in on the fun and check out our newest digital escape room, a National Park Road Trip!
Suggested Age Range: Kids & Teens (Ages 8-14) or Families
---
More News
</