Throw it Back with these 1990s Rom-Coms

The 1930s are widely referred to as the height of the Golden Age of Cinema, but in our opinion, the 1990s were undeniably the Golden Age of Hollywood Rom-Coms.

The 1990s produced a large selection of hilarious and romantic films. Check out this selection of 1990s rom-coms available in our collection.
1990s Rom-Coms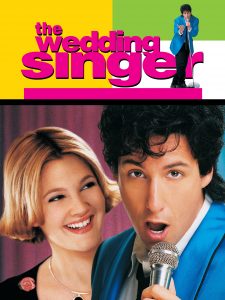 The Wedding Singer
Adam Sandler and Drew Barrymore are rom-com veterans. The duo has now starred in 3 rom-coms together since the Wedding Singer debuted in 1998. In this film, Adam Sandler falls for the bride-to-be after being hired to perform at her upcoming nuptials. Hilarity and hijinks quickly ensue.
---

Pretty Woman
There's no denying that Julia Roberts was the reigning Queen of Rom-Coms in the 1990s. In Pretty Woman, she stars alongside Richard Gere as a prostitute who falls in love with her client. If you haven't seen this movie yet, you're making a "big mistake…big…huge!"
---

Runaway Bride
Julia Roberts appears opposite her Pretty Woman co-star Richard Gere in this movie about a woman with a history of getting cold feet at the altar.
---

Jerry Maguire
This Cameron Crowe (Almost Famous) production not only provided the cast and crew with critical acclaim but also created catchphrases like "show me the money" and "you had me at hello" that are fully embedded in pop culture.
---

Notting Hill
Julia Roberts + Hugh Grant + London = the perfect rom-com. In this popular rom-com, Roberts plays an American actress who has a chance encounter with a London bookshop owner. This is another film that boasts an impressive cast of side characters, who add to the overall humor and delight of the film. Notting Hill was written by Richard Curtis, who would later go on to write other noteworthy rom-coms like Bridget Jones's Diary and Love Actually.
---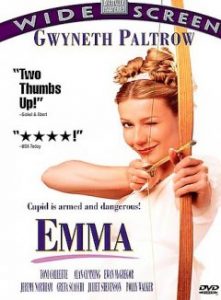 Emma
Gwyneth Paltrow leads a talented cast of characters in this adaptation of the classic Jane Austen novel. Emma was received with critical acclaim and commercial box office success.
---

Clueless
Do you think I would forget to include Clueless? As if!
After you've seen Emma, you're going to want to watch Clueless. This film is a modern retelling of Jane Austen's classic. Clueless leaves behind Regency England for Beverly Hills, California, and hilarity ensues.
---

My Best Friend's Wedding
I wasn't exaggerating when I said that Julia Roberts was the Queen of Rom-Coms. My Best Friend's Wedding is one of her most memorable films, which follows along as her character does everything in her power to derail her best friend's wedding in Chicago.
---

Never Been Kissed
Drew Barrymore is also no stranger to the land of rom-coms. In Never Been Kissed, she plays a young journalist who goes undercover to infiltrate and write about a local high school.
---

Ten Things I Hate About You
You definitely won't find ten things to hate about this movie. Another modern retelling, this film reimagines Shakespeare's The Taming of the Shrew set in a 1990s high school. Heath Ledger's breakout role as Patrick Verona helped secure his star status after the film's release.
---

Empire Records
Spend the day with a group of loveable misfits as they try to save their beloved place of employment – Empire Records. The soundtrack serves as the perfect 1990s time capsule.
---

When Harry Met Sally
Confession: When Harry Met Sally is technically not a 1990s rom-com since it was released in 1989. We're going to let that slide this one time though, okay? This iconic rom-com explores the age-old question of whether or not men and women can maintain platonic friendships with one another. Starring Billy Crystal and Meg Ryan, the film paved the way for many modern rom-coms.
---
More News