The Best of Dav Pilkey, Children's Author
Celebrate Dav Pilkey's new series by checking out his most popular titles!
Dav Pilkey's newest book, Cat Kid: Comic Club, was just released! To celebrate, we are looking back at his best-sellers.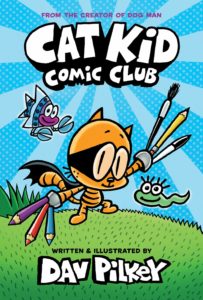 Cat Kid: Comic Club
In Cat Kid Comic Club, Li'l Petey, Flippy and Molly introduce twenty-one rambunctious, funny and talented baby frogs to the art of comic making. As the story unwinds with mishaps and hilarity, readers get to see the progress, mistakes and improvements that come with practice and persistence.
Popular Titles
Pilkey has a few different series that his work tends to stem off of, but a few of his titles stand out among the rest as some of our most checked out books.

The Adventures of Super Diaper Baby: The First Epic Novel
Meet Super Diaper Baby – the most powerful peewee to ever pack a punch. George and Harold's brand-new superhero is sure to make kids laugh until soda comes out their noses!
---

Dog Man
When Greg the police dog and his cop companion are injured on the job, a life-saving surgery changes the course of history, and Dog Man is born. With the head of a dog and the body of a human, this heroic hound has a real nose for justice. But can he resist the call of the wild to answer the call of duty?
---

The Adventures of Captain Underpants: The First Epic Novel
His true identity is so secret, even he doesn't know who he is! This book provides young readers with the adventure of a lifetime in this outrageously funny, action-packed, easy-to-read chapter book. With hilarious pictures on every page.
---

The Dumb Bunnies
They go bowling in a library, they ice-skate on the bottom of a lake, everything the Dumb Bunnies do is REALLY dumb – but lots of fun. When an intruder sneaks into their house, this family is stumped. See what happens to their unwelcome guest and laugh yourself silly!
---
More News
</