Thanksgiving Cookbooks

The Thanksgiving holiday is quickly approaching and we're here to help make the day a culinary success.

These cookbooks will help you prepare for the biggest meal of the year, whether you're hosting a Thanksgiving feast for relatives, attending a Friendsgiving gathering or preparing a low-key holiday dinner.
Thanksgiving Cookbooks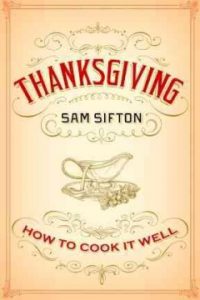 Thanksgiving: How to Cook it Well by Sam Sifton
As a former restaurant critic for The New York Times, Sam Sifton is undoubtedly a culinary expert. His book will walk you through the steps to creating the perfect Thanksgiving feast. Whether you're cooking to impress your extended family or just want to prepare a meal for yourself, Sifton's book will make sure that the food will be memorable. (Sorry, he can't help manage any family drama or awkward dinner conversations.)
---

Happy Herbivore Holidays & Gatherings by Lindsay S. Nixon
If you need ideas and inspiration for a vegetarian and vegan-friendly Thanksgiving meal, Nixon has compiled a cookbook just for you. Check out other recipes to use for holidays and celebrations throughout the year.
---

Thanksgiving 101 by Rick Rodgers
Maybe this is your first time hosting Thanksgiving or maybe you just need some extra help preparing for a crowd, either way, Thanksgiving 101 will be the perfect companion for your Thanksgiving preparations. Available as an ebook, Thanksgiving 101 offers recipes and hosting tips to help make this Thanksgiving a success.
---

The Pioneer Woman Cooks: A Year of Holidays by Ree Drummond
Bestselling author and television personality Ree Drummond, best known as The Pioneer Woman, has created a cookbook to make sure you're fully prepared to cook and bake for any holiday. Drummond offers recipes not just for Thanksgiving Day, but also recipes to help you turn all those Thanksgiving leftovers into an entirely new tasty treat.
---

Friendsgiving by Alexandra Shytsman
Want to enjoy the food and festivities of Thanksgiving without all the family drama? Then a Friendsgiving is just the thing for you. This guide will help you throw a stress-free and fun Thanksgiving that your friends will be talking about throughout the holiday season.
---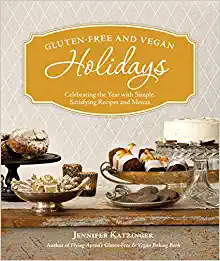 Gluten-Free and Vegan Holidays by Jennifer Katzinger
Entertain your family and friends without worrying about their dietary restrictions. With recipes for dishes like Herbed Fresh Bread Stuffing, Acorn Squash and Sweet Potato Pie, this cookbook will take the stress away from planning a menu for any gluten-free or vegan Thanksgiving attendees. Katzinger's cookbook also contains recipes for other holidays throughout the year.
---

The Best of Thanksgiving by Williams-Sonoma
The team behind culinary powerhouse Williams-Sonoma has created a comprehensive book of recipes and guides for hosting a holiday meal. Not only will they help you cook and carve the perfect turkey, but they will also guide you through menus and wine pairings for the year's biggest meal. A selection of gluten-free recipes are also included.
---
More News