Take a Chance on a Blind Date with a Book

This Library Lovers Month, go on a blind date with a book hand-selected by library staff.
Stroll into any of our branches and head to the display shelves: Blind Date with a Book is back! Selected titles range genres and interests. New this year is a chance to review your date via a bookmark. Turn it in for the chance to win a prize.
How it Works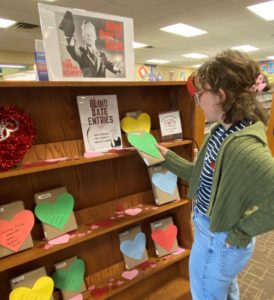 On the display, selected books will be wrapped in paper with written details about the genre, synopsis and age group.
Pick up a secret book of your choice, head to the patron services desk and cozy up with it wherever you like to read.
Inside you'll find a bookmark to Rate Your Date. Fill out the bookmark and turn it back into any branch with your name and email for the chance to win one of two gift cards: $25 to AMC or $25 to Darden restaurants. Two winners will be selected per branch.
NOTE: Entries will be collected through Monday, March 13 at the Carrico/Fort Thomas, Newport and Cold Spring branches and through Saturday, March 11 at the Alexandria Branch. 
---
More News
Follow Us!