Story Time Favorites

View a list of our favorite story time books and related activities that can help you have your very own story time at home!
We have all been spending more time at home these days, and it can be hard to think of things to do with your little ones. Below are some of our very favorite books we use in our story times. There is also an activity that goes along with each book!
If you want more story time fun, don't forget that we release a new online story time on YouTube every Monday-Thursday at 10 am. Watch new videos and ones from previous weeks by visiting our YouTube channel.
Miss Joyce – Carrico/Fort Thomas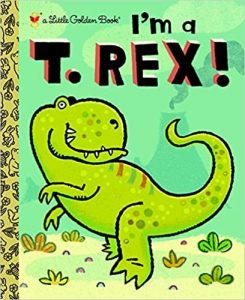 This book has an excellent rhyme scheme that pulls in readers and presents facts about the T. Rex in a very fun, humorous way.
One of Miss Joyce's favorite lines from the book is "I lived in a time called Cretaceous – good gracious! That just means a long time ago."
A good activity to do after reading this fun book is to roar your way through the Dino Pokey! Just claw, stomp and chomp along with the song.
You put your claws in,
You put your claws out,
You put your claws in,
And you scratch them all about.
You do the Dino Pokey,
And you turn yourself around,
That's what it's all about!
You put your teeth in,
You put your teeth out,
You put your teeth in,
And you chomp them all about.
You do the Dino Pokey,
And you turn yourself around,
That's what it's all about!
You put your feet in,
You put your feet out,
You put your feet in,
And you stomp them all about.
You do the Dino Pokey,
And you turn yourself around,
That's what it's all about!
Miss Molly – Cold Spring
Waiting by Kevin Henkes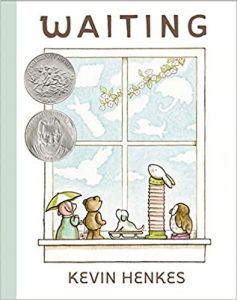 Many children are being told that they need to wait for things right now. They must wait to go back to daycare or school, wait to see grandma and grandpa, wait to go to the playground, the list goes on and on. This book gently reminds readers that even though waiting takes patience, it not only pays off in the end but you can experience connection and belonging along the way.
After reading this lovely book, take a moment to talk together! Have a discussion about some of the things we have to wait to do right now. Talk about and draw some of the things you are excited to do when you're able to go out and do more activities again!
Miss Jessi – Newport
While illustrations are lovely and important, this book reinforces the fact that YOU are important as well! Young children need you in order to get the story and they especially need all of your silly voices.
After reading this book, try making your own! A piece of paper (or a few!) can easily be folded up to create a book. Then try writing a silly book using only letters or only pictures.
Miss Molly – Alexandria
This is one of Miss Molly's favorite story time books that is available digitally. She loves this book in particular because it has a catchy song that helps draw kids into the story.
Get creative with this book and think of more things Pete could step in. What color might it make his shoes? Can you think of something for each color of the rainbow?
For even more fun, head to A.J. Jolly Park to check out the new Picture Path. The path features this Pete the Cat story! The park will have free entry on Thursday mornings in July for you to check it out.
Miss Stacey – Outreach Services
Miss Stacey said that she loves the many illustration styles that this book uses and how it plays with perspective. Plus, there are many fun and recognizable animals along with a great repetition that makes it easy to get the kids to help you read!
Looking for an art activity? Try drawing your own cat. Can you match some of the art styles shown throughout the book? See how many different ways you can draw a cat!
Miss Brittany – Cold Spring

In Olaf Waits for Spring, Olaf has no idea what spring is and learns that it comes gradually. He learns that some days are beautiful and some days are still cold, but there is beauty in the slow change. It is perfect for little ones wanting to learn more about the changes in seasons.
Want to do some exploring of your own? Take a walk outside and look around. What are some of the things you see now that you wouldn't see in the winter? Do you see flowers, bugs or birds? Talk about how they look, sound and feel. You can even use a piece of paper to draw and write about your discoveries!
Miss Nina – Newport
Farmyard Beat by Linsey Craig and Marc Brown
This is such a fun read because the rhythm jumps right out at you. Miss Nina likes to read this with a group and have everyone clap or pat their knees along with the beat. It makes it fun for the whole group! It's also an awesome chance to practice animal sounds. Try acting like each animal as they appear throughout the book.
An activity you can do after reading this upbeat book is to create your own beat. Pat on different things — your knees, a table, the couch — and see what different kinds of sounds they make. Can you create a cool sounding rhythm by mixing the sounds together?
Miss Carol – Outreach Services

Duck! Rabbit! by Amy Krouse Roseenthal and Tom Lichtenheld
This book always leads to great discussions about whether it is about a duck or a rabbit. It all depends on how you look at it!
After reading this book, take a poll of the people in your house. Do they think the book was about a duck or a rabbit? Talk about it with them. Next, draw a shape on a piece of paper twice. Draw two circles, triangles or whatever shape you'd like. Can you use each of them to draw different things?
More News