Recipes Inspired by Famous Books

Try making these nine recipes inspired by famous books!
Children's Books
James and the Giant Peach by Roald Dahl
If you're looking for a great book and recipe combo to do with kids, this is it. Read the book and follow it up by having the kids help make this easy Three-Step Peach Cobbler recipe.
If peach cobbler isn't your favorite, check out The Peach Truck by Stephen and Jessica Rose from our digital collection for an entire cookbook of peach-based recipes!
---
Madeline by Ludwig Bemelmans
Madeline is a spunky 7-year-old who gets into all kinds of antics and plans her own adventures. If you're looking for a treat that is just as adventurous, what's better than Chocolate Dipped Madeleines? This recipe combines bold orange flavors with chocolate and tops them with pistachios. Follow the recipe exactly or add your own twist to make the perfect snack!
---
Winnie-the-Pooh by A. A. Milne
You have likely heard the classic quote from Pooh, "Eating honey is a very good thing to do." Well, give it a try with this Honey Bun Cake recipe!
Looking for something a little healthier? Try out one of the many honey-based recipes in the Healthy Honey Cookbook by Larry Lonik, which is available in our digital collection.
Popular Books
The Hunger Games by Suzanne Collins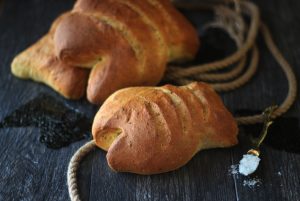 Bread from District 4 is known to be shaped like a fish and tinted green because of the seaweed that they use from their fishing trips. Since seaweed may not be the most popular flavor, try out this classic Artisan Yeast Bread that any beginner can pull off. Once you get the hang of it, try shaping it into a fish shape for a more authentic Hunger Games feel.
For more bread baking tips, tricks and recipes, check out Basic Bread Baking by Glenn Andrews from our digital collection.
---
Harriet the Spy by Louise Fitzhugh
"Listen, Harriett, you've taken a tomato sandwich to school every day for five years. Don't you get tired of them?"
"No."
Harriet may not be tired of her classic tomato sandwich, but if tomato and mayo on bread doesn't sound like it would be up your alley, this cheesy twist may suit you better.
This Broiled Tomato Sandwich is a play on the classic Italian appetizer, bruschetta.
---
The Secret Life of Bees by Sue Monk Kidd
For a book set in 1964 in the fictional Southern town of Sylvan, South Carolina, no one is surprised that it includes more than a few references to classic Southern dishes. For a modern spin, try out this recipe:
We also recommend Chrissy Teigen's Mac and Cheese with cheesy garlic bread crumbs from her cookbook, Cravings. Available now from our digital collection!
Classics
To Kill a Mockingbird by Harper Lee
In To Kill a Mockingbird, Scout Finch's neighbor, Miss Maudie Atkinson, makes a bourbon-loaded Lane Cake that's famous all over the town of Maycomb, Alabama.
This Southern Living recipe even quotes, "The Lane Cake gained literary fame in 1960 when it was featured in Harper Lee's To Kill a Mockingbird." The recipe focuses on a peach and coconut flavor with a peach schnapps frosting.
---
The Great Gatsby by F. Scott Fitzgerald
"Daisy and Tom were sitting opposite each other at the kitchen table, with a plate of cold fried chicken between them, and two bottles of ale."
I don't know about you, but making fried chicken from scratch has always seemed intimidating. This Food Network recipe breaks the process down into four simple steps.
If you feel more comfortable in the kitchen, check out Melissa's Southern Cookbook from our digital collection and try making her Cast-Iron Buttermilk Fried Chicken.
---
Jane Eyre by Charlotte Bronte
Jane and her friend Helen are given a rare treat when kind Miss. Temple shares a seed cake with them. Seed cake is a very traditional Victorian recipe, so you've probably seen it mentioned in other novels. Often served at a mid-day tea, this Seed Cake recipe makes four individual-sized cakes.
More News