Push Play on These Holiday TV Episodes

Get in the holiday spirit with the holiday episodes of popular television shows.

Spend time this holiday season with some of your favorite TV characters. There's drama, comedy, sci-fi, romance and plenty of festive fun to go around. Grab the popcorn, some hot chocolate and enjoy these seasonal episodes.
Holiday TV Episodes
Friends – The One with the Holiday Armadillo – Season 7, Episode 10
When Ross' son, Ben, stays with him for the holidays, he wants to make the experience as memorable as possible. He attempts to surprise Ben in a Santa suit. Unfortunately, it's too late to rent any Christmas costumes for the season. Instead, the now-iconic Holiday Armadillo shows up to surprise Ben. The entire Friends gang joins in on making it a memorable—albeit chaotic and hilarious—holiday for Ben.
---

Parks and Recreation – Citizen Knope – Season 4, Episode 10
The entire Pawnee Parks Department brings the laughs and holiday cheer in this special Parks and Recreation episode. Leslie Knope is in a rough patch of her professional career—not only is she banned from City Hall, but the poll numbers for her City Council campaign are sinking. In classic Leslie Knope fashion, she still makes the effort to gift the Parks Department staff with thoughtful and caring Christmas presents. Though initially unsure what to give her in return or how to raise her spirits, the staff comes together to create the perfect gift for Leslie.
---

The X-Files – How the Ghosts Stole Christmas – Season 6, Episode 6
A Christmas X-Files episode wouldn't be complete without something creepy for everyone's favorite FBI special agents to investigate. Join Mulder and Scully as they uncover the mysteries surrounding a haunted house. Also, keep a lookout for cameo performances by Ed Asner and Lily Tomlin.
---

Doctor Who – A Christmas Carol – Season 6 Christmas Special
Fans of Doctor Who won't be disappointed with the show's sci-fi spin on A Christmas Carol. You can also find more holiday episodes in Doctor Who: The Complete Specials DVDs that are also available in our collection.
---

Downton Abbey – Christmas at Downton Abbey – Season 2, Episode 9
We won't spoil it for those who haven't seen it yet, but one of Downton Abbey's most memorable moments takes place during their season 2 Christmas episode. This episode contains everything viewers enjoy the most about the world of Downton Abbey and the Crawley family – there's love, drama, festive parties and humor. It's all topped off with a picture-perfect snowy Christmas in England.
---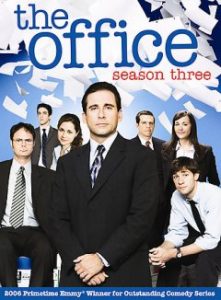 The Office – A Benihana Christmas – Season 3, Episode 10
It's difficult to narrow down just one holiday entry for The Office. The show perfected situational comedy and always delivered when it came to their Christmas episodes. Find out what the staff at The Office do when Michael Scott takes certain co-workers to lunch at Benihana while others face-off during dueling Christmas parties.
---

Sherlock – A Scandal in Belgravia – Season 2, Episode 1
Are you looking for a superbly acted and written mystery featuring blackmail, the royal family, and a London Christmas? If so, Sherlock will not disappoint. Holmes and Watson are on the case when a scandal unfolds during the holiday season. Find out how they follow the clues in order to help save the monarchy.
---

Seinfeld – The Strike – Season 9, Episode 10
If you have ever heard of or celebrated the holiday of Festivus, you have Seinfeld to thank. This episode introduces viewers to the customs of Festivus, and boasts some of the funniest moments in the entire series.
---

New Girl – The 23rd – Season 1, Episode 9
New Girl consistently gave viewers solid holiday episodes throughout their sitcom tenure on television. This episode centers on Jess' attempts to experience the city's most festive street, Candy Cane Lane. One of the great aspects of this episode is how viewers get to see just how much the characters truly care about one another and how their friendships have grown throughout the season.
---
More News