Memoirs to Read During Black History Month

To honor Black History Month, we are spotlighting books, writers, creators and filmmakers in the Black community.
Black History Month isn't only about the past but also the living present. And what better way to commemorate it than by reading works from Black Americans documenting their own experiences? We've compiled a list of memoirs covering a breadth of topics, from the personal to socio-political commentary to historical. 
Memoirs for Black History Month
How We Fight for Our Lives: A Memoir by Saeed Jones 
Winner of the 2020 Kirkus Prize and the Stonewall Book Award, Saeed Jones' coming-of-age memoir has been hailed as a "bracingly honest" (The New York Times Book Review) account of his experience as a young, Black, queer man from the American South. He interweaves stories of his childhood, adolescence, and relationships with family, friends, lovers and strangers. This memoir ultimately reckons with the fight to become one's authentic self.  
---
We Are Never Meeting in Real Life by Samantha Irby
Comedian Samantha Irby's essay collection will make you laugh and cry in tandem as she dishes about navigating adulthood, pokes fun at her past self and reveals powerful emotional truths. From a disastrous trip to spread her father's ashes in Nashville to her pitch to be the new lead on The Bachelorette, Irby's book navigates difficult subject matter with her trademark wit. Irby, a writer on Hulu's hit show Shrill, also released a 2020 collection titled Wow, no thank you. 
---
The Source of Self-Regard: Selected Essays, Speeches, and Meditations by Toni Morrison 
Read the essays, speeches and meditations of the late Toni Morrison, one of the most celebrated writers of our time. The collection spans four decades of society, art and culture—from a prayer for the dead of 9/11 to a meditation on Martin Luther King and a eulogy penned for fellow literary giant James Baldwin. She also reflects on her works, including The Bluest Eye, Jazz, Beloved and Sula. 
---
Heavy by Kiese Laymon
Kiese Laymon's 2018 memoir drew myriad accolades upon its release, including the Carnegie Medal for Nonfiction and the LA Times Isherwood Prize for Autobiographical Prose. In Heavy, Laymon traces back to his childhood in Jackson, Mississippi with his "brilliant Black mother" to his young adulthood in New York as a college professor. It fields a breadth of subjects, from art to weight to family and friendship. 
---
This Is What America Looks Like by Ilhan Omar
U.S. Representative for Minnesota Ilhan Omar traces her journey from refugee to congresswoman in this illuminating memoir. The first African refugee, Somali-American and one of the first Muslim women to be elected to Congress, Omar's memoir provides insight into her childhood as a refugee and her path to becoming a leader. 
---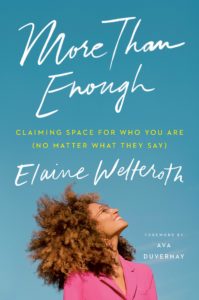 More than Enough: Claiming Space for Who You Are (No Matter What They Say) by Elaine Welteroth
Elaine Welteroth, the former editor-in-chief of Teen Vogue, shares lessons and struggles of breaking barriers across intersections. She draws from her own experiences as a young, Black woman in media and fashion to remind others that they're, well, more than enough. Read it for her wisdom and insights on how she came into her own. 
---
The Yellow House by Sarah M. Broom 
Sarah M. Broom's widowed mother Ivory bought a house in 1961 in New Orleans East. Amid the space race, their neighborhood was home to a NASA plant. When Ivory married Sarah's father, Simon, their family numbered 12. The book spans a hundred years of Broom's family and the legacy of their home in New Orleans, even after it's destroyed by Hurricane Katrina. The winner of the 2019 National Book Award in Nonfiction, it's a story of intersections: place, class, race and inequality.
---
The Cooking Gene by Michael W. Twitty
Hungry? In this memoir, renowned culinary historian Michael W. Twitty examines his ancestors, both Black and white, through the history of slavery to show its lasting effects on Southern food.
---

Just Mercy by Bryan Stevenson
Just Mercy follows Bryan Stevenson's career as a lawyer defending disadvantaged clients. The account examines the injustices of the United States' judicial system. One case covered is that of Walter McMillian, a young Black man sentenced to death for a murder he didn't commit. Stevenson's memoir was adapted into a 2019 film directed by Destin Daniel Cretton.
---
Hunger by Roxane Gay
Roxane Gay's acclaimed Hunger is an intimate memoir exploring the relationship between food and body. By drawing from her own experiences, she explores what it means to be overweight amid societal anxieties over pleasure, consumption, appearance and health.
---
More News