Join the Friends!

The Board of Directors of the Friends of the Campbell County Public Library is accepting applications for new members.  Applications will be accepted until July 20. You can find the application form online at www.cc-pl.org/friends. Board members will be elected at the annual meeting on Aug. 18.
Who are The Friends of the Library?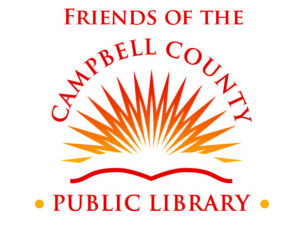 The Friends of the library is a non-profit association that exists to support the Campbell County Public Library. They work to promote and publicize the library and its activities throughout Campbell County. They also aid in providing funds for the library's special needs, provide a means for citizens to express ideas and make suggestions for programs and services.
"The Friends do so much for the library," said  JC Morgan, library director. "For years, they provided all of the funding for our summer reading activities. They recently provided funds to help offset the cost of our new Book Bus. We're grateful for all that they do to help the library grow in the community."
Friends board members serve a four-year term and are eligible for election to one additional four-year term. Interested board applicants must be a member of the Friends.  Information about joining can be found here.
Board meetings are held quarterly and generally last about an hour. Questions about applying or serving on the board can be directed to JC Morgan at 859-781-6166 x180 or by email at jcmorgan@cc-pl.org.
More News