Inspirational Books for Kids

Our Children's Department staff put together a list of their favorite inspirational books that are perfect for Martin Luther King Jr. Day!
Alexandria
Molly Walker, children's services programmer, recommends:

What Can a Citizen Do? by Dave Eggers
Across the course of several seemingly unrelated but ultimately connected actions by different children, we watch how kids turn a lonely island into a community- and watch a journey from what the world should be to what the world could be.
---
Carrico/Fort Thomas
Jennifer Gooch, children's services librarian, recommends:

Each Kindness by Jacqueline Woodson
When Ms. Albert teaches a lesson on kindness, Chloe realizes that she and her friends have been wrong in making fun of a new student's shabby clothes and refusing to play with her.
---
Joyce Emery, children's services programmer, recommends:

I Am Every Good Thing by Derrick Barnes
The confident Black narrator of this book is proud of everything that makes him who he is. He's got big plans, and no doubt he'll see them through- as he's creative, adventurous, smart, funny and a good friend. Sometimes he falls, but he always gets back up.
---
Newport
Nina Frondorf, children's services librarian, recommends:

Extra Yarn by Mac Barnett
A young girl and her box of magical yarn transform a community in this stunning picture book. With spare, gently humorous illustrations and a palette that moves from black-and-white to a range of color, this modern fairy tale has the feel of a new classic.
---
Jessi Holloway, children's services programmer, recommends:

Song for a Whale by Lynne Kelly
From fixing the class computer to repairing old radios, twelve-year-old Iris is a tech genius. But she's the only deaf person in her school, so people often treat her like she's not very smart. If you've ever felt like no one was listening to you, then you know how hard that can be.
---
Outreach Services
Carol Freytag, outreach services coordinator, recommends:

The Little Engine That Could by Watty Piper
Although she is not very big, the Little Blue Engine agrees to try to pull a stranded train full of toys over the mountain.
---
Stacey Venneman, early literacy librarian, recommends:

The Book of Mistakes by Corinna Luyken
As an artist creatively incorporates her slipups into a drawing, readers see the ways in which 'mistakes' can provide inspiration and opportunity, and reveal that both the art and artist are works-in-progress.
---
More Recommendations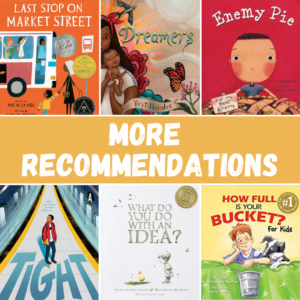 For a complete list of all the recommended titles, click on the link below.
More News