You've Been Booked! – "Binti" by Nnedi Okorafor
Monday, May 3, 2021
7:00 pm - 8:45 pm
"You've Been Booked!" is a book club that meets once a month. Open to both adults and teens for those interested in reading young adult literature!
---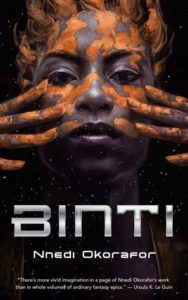 "Binti" by Nnedi Okorafor
"Her name is Binti, and she is the first of the Himba people ever to be offered a place at Oomza University, the finest institution of higher learning in the galaxy. But to accept the offer will mean giving up her place in her family to travel between the stars among strangers who do not share her ways or respect her customs.
Knowledge comes at a cost, one that Binti is willing to pay, but her journey will not be easy. The world she seeks to enter has long warred with the Meduse, an alien race that has become the stuff of nightmares. Oomza University has wronged the Meduse, and Binti's stellar travel will bring her within their deadly reach.
If Binti hopes to survive the legacy of a war not of her making, she will need both the gifts of her people and the wisdom enshrined within the University, itself – but first she has to make it there, alive." – Goodreads.com
---
Program Information
This is a live program that will be conducted both in-person and via Zoom, a free online video conferencing platform. Registration is required. Limit of 10 attendees in-person. Please note in the Special Needs section of the registration form if you prefer in-person or Zoom attendance.
If Campbell County is RED on the Kentucky Department for Public Health's COVID-19 Dashboard, all in-person programs will be cancelled and those registered will be offered the online option.
Everyone, age 6 or older, who attends library programs are required to wear masks. Please note any accommodation requests in the Special Needs section of the registration form. All those not arriving together must maintain a 6-foot social distance. If you have any questions, please contact Danielle at dturner@cc-pl.org.
Due to registration limits and social distancing requirements, we encourage adults to remain in the library but to allow their tween/teen [depending on program] to attend the program alone – only if child and adult are comfortable. If an adult needs to accompany a teen, the adult must sit with the teen so as to not contribute to room capacity
This program will take place outside our current hours of operation. For those attending in-person, a staff member will allow you entrance to the building.
Age Range: 11-19
Register for this event
Registrations are closed for this event.