Tween Book Club: 'The Magical Imperfect' by Chris Baron
Friday, June 9, 2023
4:00 pm - 5:00 pm
Sometimes reading is more fun when you have others to talk to. Registering for this program puts you on a list to pick up a free copy of this month's club pick, The Magical Imperfect by Chris Baron, from the library.

Register for this program to get your copy of the book. If you can't pick it up at Newport, tell us your location choice using the special needs section of the registration form.
Starting May 12th, pick up your book from the library.
Read and enjoy the book at your own pace.
Come chat about this month's book and other books you love in person or online on June 9th at 4:00 pm at the Newport Branch or via Zoom.
This book club is for ages 8-14
If you prefer to join via Zoom, let us know in the notes section and a link will be sent.
---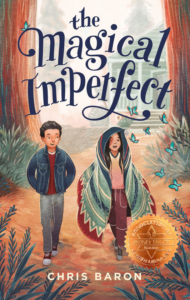 Etan has stopped speaking since his mother left. His father and grandfather don't know how to help him. His friends have given up on him.
When Etan is asked to deliver a grocery order to the outskirts of town, he realizes he's at the home of Malia Agbayani, also known as the Creature. Malia stopped going to school when her acute eczema spread to her face, and the bullying became too much.
As the two become friends, other kids tease Etan for knowing the Creature. But he believes he might have a cure for Malia's condition, if only he can convince his family and hers to believe it too. Even if it works, will these two outcasts find where they fit in?
---
Please note any accommodation requests in the Special Needs section of the registration form.
We encourage adults to remain in the library but to allow their tween/teen to attend the program alone – only if both are comfortable. If an adult must be present, they must sit with the tween/teen.
If you have any questions, please contact Miss Julia at jmanning@cc-pl.org.
Meeting Room: Newport - Kinsella Community Room Main Level
Age Range: 8-14
Snacks Provided: Yes
Register for this event
Registrations are closed for this event.