Real Men Read: 'The Moon is Down' by John Steinbeck
Thursday, November 16, 2023
7:00 pm - 9:00 pm
About the Book
---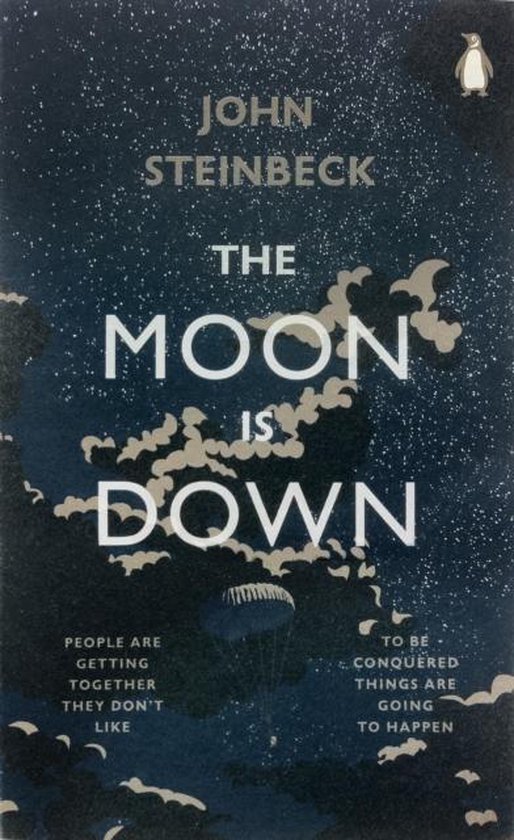 Occupied by enemy troops, a small, peaceable town comes face-to-face with evil imposed from the outside—and betrayal born within the close-knit community
In this masterful tale set in Norway during World War II, Steinbeck explores the effects of invasion on both the conquered and the conquerors. As he delves into the emotions of the German commander and the Norwegian traitor, and depicts the spirited patriotism of the Norwegian underground, Steinbeck uncovers profound, often unsettling truths about war—and about human nature.
Nobel Prize winner John Steinbeck's self-described "celebration of the durability of democracy" had an extraordinary impact as Allied propaganda in Nazi-occupied Europe. Despite Axis efforts to suppress it (in Fascist Italy, mere possession of the book was punishable by death), The Moon is Down was secretly translated into French, Norwegian, Danish, Dutch, Swedish, German, Italian, and Russian; hundreds of thousands of copies circulated throughout Europe, making it by far the most popular piece of propaganda under the occupation. Few literary works of our time have demonstrated so triumphantly the power of ideas in the face of cold steel and brute force.
About the Author
---
John Steinbeck (1902-1968), winner of the Nobel Prize in Literature, achieved popular success in 1935 when he published Tortilla Flat. He went on to write more than twenty-five novels, including The Grapes of Wrath and Of Mice and Men.
About the event
---
Real Men Read meets on the fourth Thursday of every month(except for November and December) at 7:00 pm in our Cold Spring branch meeting room. We read various fiction titles ranging from classics to modern sci-fi, as well as non-fiction including history, biography, and popular science.
Check out ALL our programs in our online newsletter, https://www.cc-pl.org/connections
Please note any accommodation requests in the Special Need section of the registration form. If you wish to attend via Zoom, or have any other questions, please contact Dave Anderson at danderson@cc-pl.org