CANCELED: Magic the Gathering at the Library
Friday, March 20, 2020
5:00 pm - 7:00 pm
Due to the health risks surrounding COVID-19, all library programs scheduled to take place through April 18 have been canceled. The health and safety of our patrons and staff are our top priority.  Please visit https://www.cc-pl.org/coronavirus for additional information.
Bring your favorite deck, play mat, and life counter dice to the Cold Spring Branch to try it out against other Magic the Gathering players.  Show them how you have some amazing deck building skills by taking their life points to zero!  Win prizes and hang out while having fun winning games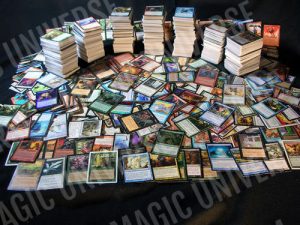 Whether you've never played a trading card game before or your closet is filled with card games, Magic: The Gathering has something to offer you. Play online or in paper to experience the thrill of a wizards' duel. Explore 25 years' worth of stories, characters, and art. Make new friends at Magic events at your local game store. There are lots of ways to be a part of the Magic community, and we're so happy to have you!
Age Range: 13+
Snacks Provided: Yes