Cup of Crime — "Wayfaring Stranger" by James Lee Burke
Wednesday, February 8, 2023
7:00 pm - 8:00 pm
Cup of Crime is a book club that meets once per month. For adults who love reading mysteries and spooky stuff!
---
This month's book: Wayfaring Stranger by James Lee Burke!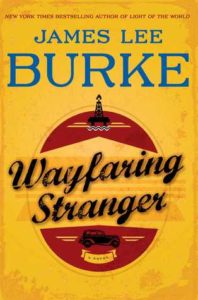 "A sprawling thriller drenched with atmosphere and intrigue that takes a young boy from a chance encounter with Bonnie and Clyde to the trenches of World War II and the oil fields along the Texas-Louisiana coast.
It is 1934 and the Depression is bearing down when sixteen-year-old Weldon Avery Holland happens upon infamous criminals Bonnie Parker and Clyde Barrow after one of their notorious armed robberies. A confrontation with the outlaws ends as Weldon puts a bullet through the rear window of Clyde's stolen automobile.
Ten years later, Second Lieutenant Weldon Holland and his sergeant, Hershel Pine, escape certain death in the Battle of the Bulge and encounter a beautiful young woman named Rosita Lowenstein hiding in a deserted extermination camp. Eventually, Weldon and Rosita fall in love and marry and, with Hershel, return to Texas to seek their fortunes.
There, they enter the domain of jackals known as the oil business. They meet Roy Wiseheart—a former Marine aviator haunted with guilt for deserting his squadron leader over the South Pacific—and Roy's wife Clara, a vicious anti-Semite who is determined to make Weldon and Rosita's life a nightmare. It will be the frontier justice upheld by Weldon's grandfather, Texas lawman Hackberry Holland, and the legendary antics of Bonnie and Clyde that shape Weldon's plans for saving his family from the evil forces that lurk in peacetime America and threaten to destroy them all." – Goodreads.com
---
Please note any accommodation requests in the Special Needs section of the registration form.
Check out all our programs in our online newsletter, at https://www.cc-pl.org/connections.
If you have any questions, please contact Danielle at dheiert@cc-pl.org or all Cold Spring programmers at csprograms@cc-pl.org.
*Zoom option available for those who wish to join virtually.
Age Range: 18+
Register for this event
Registrations are closed for this event.