DIY Tutorial: Fleece Heart Tied Pillows
Learn to make your own no-sew pillow!

The tutorial was created by Sam Rouse, the Adult/Teen Services Programmer at our Carrico/Fort Thomas Branch. If you have any questions about the tutorial, please email her at SRouse@cc-pl.org.
Supplies Needed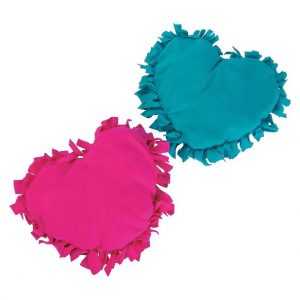 Step 1
First, place the 2 pieces of fleece on top of one another. Once you have done that you can begin tying your pillow together.
Step 2
Take two of the stripes of fleece that are on top of one another and tie them into a small knot. Continue doing this with the next two strips and keep going until you've gone almost all the way around the pillow. You will want to leave about a 2-inch opening in your pillow so you can fill it with the stuffing.
Step 3
Once you have tied almost all of the fleece pieces together, you are now ready to add your stuffing! Stuff the filling into your pillow until you like how full it is. After you have added the amount of stuffing you want, you are ready to tie off your last few knots and complete your pillow!
More News