DIY Tutorial: Creating Crystals

Easily make crystals appear overnight in just a few steps!

The tutorial was created by Cody Elliott, the Adult/Teen Services Programmer at our Newport Branch. If you have any questions about the tutorial, please email him at Celliott@cc-pl.org.
Supplies Needed
2 cups or jars
1/2 cup of water
3 tablespoons of alum powder
Fishing line
Popsicle stick
*Disclaimer: The Alum Crystal seeds were not able to be seen in pictures, so a rhinestone is used for the photos in this tutorial. The seeds you will use will be smaller.
Step 1
In a cup or jar, pour in a 1/2 cup of hot water. It does not need to be boiling but it still needs to be pretty hot. Slowly add in some alum powder and mix until the water becomes saturated. This means that you have added enough that the powder does not dissolve anymore.
Note: You should not use all of your powder in this step. Be sure to save some for later.
If you would like your crystal to be colored, add food coloring to the solution at this point.
Step 2
Once saturated, cover your jar with a paper towel. Plastic wrap or aluminum foil can also be used. Let this sit overnight for 8-12 hours.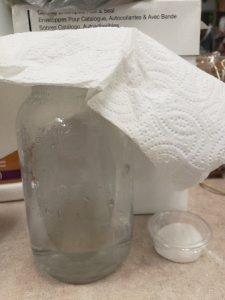 Step 3
The next day, small crystal seeds will be found at the bottom of the jar. Pour your mixture into a second cup to get your crystal seeds at the bottom.
Step 4
Select the biggest crystal seed and tie one end of the fishing line to it and the other end to the popsicle stick.
You can tie more than one seed to the popsicle stick but the seeds will fight with each other to get the most alum powder. They will be smaller than what you will end up with if you only tie one seed.
Step 5
Once you tie the crystal, put the crystal into your second cup with the water solution from the night before with your popsicle stick hanging over the top of the cup to keep your seed hanging in the water.
Cover the top of the jar again and let it sit for another 24 hours to let the crystal grow. You can leave your crystal sit for even longer and let it completely soak up the solution to let it get even bigger.
If the crystal gets stuck to the side of the jar, gently scrape off the edges and move it so it dangles in the middle of the jar.
More News